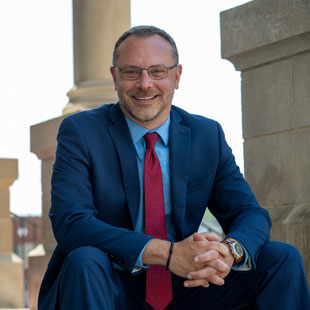 Greetings from James Madison University's School of Professional and Continuing Education! While our unit stayed very busy over the summer, we also enjoyed time to either disconnect, relax, or pursue activities we love. With that said, we are hitting the ground running for all that lies ahead!  
What I am excited to share with you in this edition of our newsletter is our unit's continued diligence and excellence in pursuing and accomplishing our ongoing goals.  
Towards

 

increasing equity inclusion, and access

, we are excited to announce that our Lifelong Learning Institute will launch its first pilot hybrid courses this fall allowing remote students the option to fully participate in our courses. 
In

 

telling our story

, I am honored to share with you the powerful testimonials of some of our most recent Adult Degree Program graduates. These testimonials showcase the impact the Adult Degree Program has both in the lives of its students and staff, but also on their communities.

  

 

 
SPCE's Youth Programs did incredible work in

 

providing high quality, relevant learning experiences

 

to our community's youth this summer. In this edition, you can read about the expansion and success of this part of our portfolio.  
As a unit, we also continue to

 

strengthen our infrastructure, operations, and resources

 

by prioritizing collaborative programming opportunities and contributing to initiatives across the university through service, stewardship, expertise, and financial resources.  
These goals showcase the heart and integrity of our unit and its partners, and we will keep these goals at the forefront of our work as we find more ways to inspire our students as they continue to inspire us.  
As we continue in the new semester, I would like to thank all of our students, staff, faculty, partners, and stakeholders for all you do. Your efforts and dedication have a meaningful impact on those we serve as we all embrace the importance of learning for a lifetime.  
Sincerely,  
Dr. Nicholas J. Swartz  
Interim Dean