School of Professional & Continuing Education (SPCE)
"Initiative" is an Action Word
---

More often than not, we all find ourselves exhausted by our social climate. We talk, listen, talk more, and then what? Things stay the same. It is time for action.
Initiative is "the power or opportunity to act or take charge before others do." The creation of the JMU Diversity, Equity, & Inclusion (DEI) Initiative is that, power and opportunity to act.
Shonta Sellers, Director of Marketing & Communications, has accepted the position of Director of DEI Initiatives for Professional & Continuing Education (PCE). Dr. Melissa Lubin, Dean of PCE thinks "Shonta brings a very unique perspective to the opportunity. I am excited Shonta has accepted this challenge and will work with the unit to act and bring about change."
Shonta's role will include:
Coordinate unit-wide access, inclusion, and retention best practices
Provide consistent attention towards achieving PCE's and JMU's Diversity & Inclusion vision
Oversee and assess the efficacy of PCE's Diversity Council
Facilitate the coordination of unit-wide access, inclusion and retention best practices
Certify equitable hiring practices in coordination with the Associate Provost for Diversity, Equity, & Inclusivity
Serve as PCE's Ombudsperson for access and inclusion complaints
Serve on the College Diversity Council
Serve as a representative to the Provost's Faculty Diversity Council
Liaise with the JMU Black Alumni Group
Liaise with Special Assistants to the Dean for Diversity from other colleges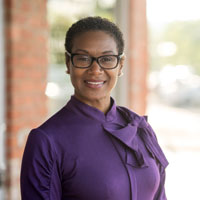 "I am proud to have this opportunity to lead in our unit. As we work to change minds and ideas around diversity, equity, and inclusion, the word 'initiative' means action to me. It is a way of thinking, acting, and moving forward," said Shonta. "This will be a collective effort for us to create new experiences and ways of thinking. I look forward to working with colleagues from across the university in this effort."
In support of the DEI Initiative, Sindhura Elagandhala will help support Shonta as a Graduate Assistant. Sindhura (they/them) brings a unique perspective and vast experience from JMU Center for Multicultural Student Services Diversity Education Empowerment Program (DEEP Impact) and University of Virginia LBGTQ Center. They are studying Clinical Mental Health Counseling.