Founded in 1908, James Madison University is a public university located in Virginia's Shenandoah Valley. JMU is fast becoming one of the nation's leading lights in higher education because students enjoy unusually engaged relationships with world-class faculty who are here because they want to pursue knowledge and make teaching their No. 1 priority.
Location:

Undergraduate students:

Graduate students:

Programs of study:
Student/faculty ratio:

Average class size:

Instructional faculty:

Athletics:

Sun Belt Conference

NCAA D-I
#1
best college in Virginia
for getting a job
—U.S. Department of Education
statistics compiled by Zippia
#1
Most recommended public
university in the U.S.
—Wall Street Journal and
Times Higher Ed
#7
Best College Campuses
in America
—Niche.com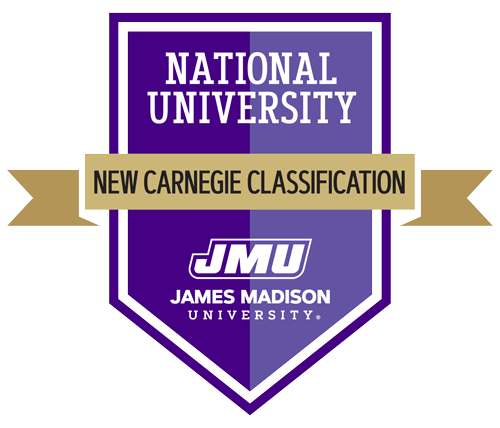 We have dominated the regional rankings for decades, and the best is yet to come.
Thanks to a new Carnegie Commission Classification of R2 Doctoral University with high research activity, JMU is now officially recognized for its world-class academic excellence and national prominence.
#51 National University Rankings by Washington Monthly
#19 Best Value Big College by Niche
TOP 14% of four-year U.S. public colleges for return on investment by Georgetown University Center on Education and the Workforce
90% freshman retention rate (national average is 72%)
80% of JMU students do undergraduate research, an internship, a practicum or student teach
98% of classes are taught by professors (a rarity for schools our size)
96% of 2021 JMU graduates were employed, in graduate school or involved in other career endeavors within six months of graduation
---

We know that success requires equal parts intellect and action. At JMU, that's what Being the Change is all about.
JMU graduates are far more than merely educated. Members of a fellowship of doers, they know how to make things happen. They've honed their ability to think critically. They've learned the importance of a strong work ethic and have become committed to and skilled at collaborating with others. Diplomas in hand, they leave campus determined to live lives of meaning and pursue careers of purpose.
Equal parts intellect and action help mold JMU graduates.