JMU's picturesque campus is home to a community of learners who are as friendly as they are smart. We share a backyard full of mountain views, a kitchen that ranks #8 in the nation, an unparalleled recreation center and residence halls with top-notch amenities.
JMU has 25 residence halls spread throughout campus that are available exclusively for first-year students. Take a look inside with our fully interactive virtual tours.
Students also have the option to live and learn with others who have similar interests through Residential Learning Communities. Together, students in these communities take courses that are specific to a certain field of study. From Arts to Education to Honors, there are plenty of communities to choose from.
Students with a disability or medical condition that requires a housing accommodation on campus can submit a Housing Accommodation Request.
#7
of 1,396 Best College Campuses in America
—Niche.com, 2023
JMU has been ranked in the top ten for "Best Campus Food" for the past two decades. Our students agree - the variety and quality of food at JMU deserves the high praise.
With more than 25 different dining options on campus, you'll find buffet style, a-la-carte, convenience kiosks, food trucks and even a few popular food chains in the mix.
Students with diet restrictions can also enjoy gluten-free, nut-free and vegan/vegetarian options across campus. For more information about on-campus dining options, check out Dining Services' website.
#8
of 1,373 Best College Food in America
—Niche.com, 2023
Throughout the year, campus is bustling with events and activities. Students can unwind with a film every week in our on-campus movie theater or connect with hallmates at activities in their own dorm. Comedy shows, concerts, Late Night Breakfasts, international events - the list goes on and on. Check out the calendar to see what's happening on campus right now!
JMU's state-of-the-art University Recreation Center (UREC as we like to call it) is a fitness enthusiast's dream come true. This 278,515-square-foot palace offers group exercise and fitness classes, an aquatics center, an indoor track, a wellness center, cooking classes, personal trainers - even an adventure center to rent gear for a weekend retreat.
Whether you played a sport in high school and want to start again or just want to pick up new skills, UREC gives you the space to be competitive with more than 25 intramural sports teams. Sports range from volleyball to basketball to water battleship and ultimate frisbee. Check out UREC's website or Instagram to learn more.
Get around town
First-year students are urged to leave their cars at home, but that doesn't mean you can't get around easily. The Harrisonburg transit system conveniently operates on campus and throughout the city. You can jump on a bus to quickly move from one end of campus to the other, or to visit a local store to stock up on groceries or supplies. Harrisonburg city streets are bike-friendly as well! You are bound to see students hop on a bike or motorized scooter to reach nearby destinations in town.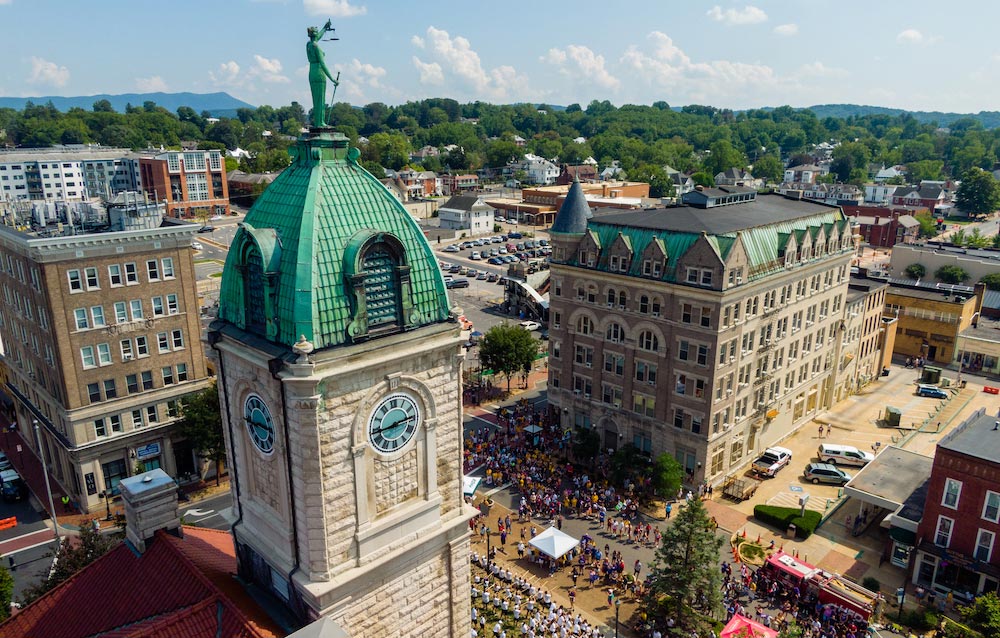 Located in the Shenandoah Valley, right off Interstate-81, JMU is conveniently accessible to travelers from across the globe. And with the recent addition of a new jet service, our nearby Shenandoah Valley Regional Airport makes traveling to and from Harrisonburg easier than ever. For information on travel options to and from campus, visit the transportation page.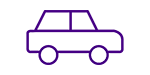 from Washington, D.C.
and Richmond, Virginia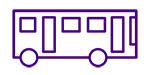 connect JMU students
to cities in the northeast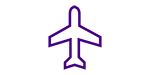 from the nearest airport,
Shenandoah valley (SHD)