Being involved at JMU leads to networking opportunities and meaningful bonds that last a lifetime. Staying involved inside and outside the classroom helps you find your people and connect with your passion. It also helps you practice skills that will be vital to your success after JMU.
The best time to get involved
This is a time to find yourself. And getting involved outside the classroom is the best way to make your mark and discover your passion. At the beginning of each semester, JMU's clubs and organizations come together at Student Org Night. This event gives you the opportunity to meet your peers and browse all of the ways to get involved on campus.
Try something completely different or dig into an existing interest. With over 400 clubs and orgs at JMU, you'll find your niche. There is something here for everyone. Find a full list of JMU's clubs and organizations here.
#22
of 1,521 colleges with the best student life in America
—Niche.com, 2023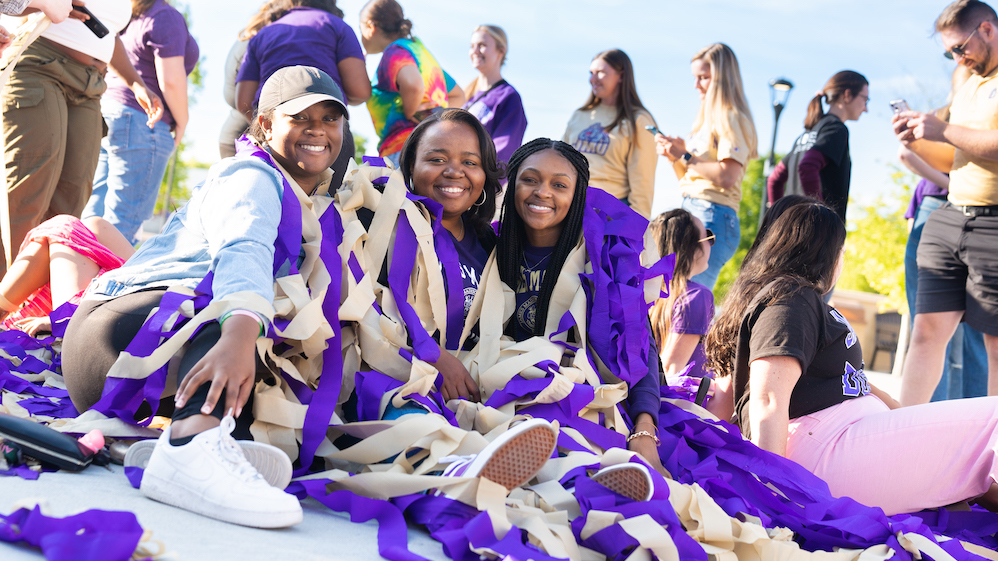 Community service is an important part of the JMU culture. These experiences offer you the opportunity to help others while gaining invaluable understanding about life.
You'll find opportunities to serve the local and global community through student organizations, class projects and the Community Engagement and Volunteer Center.
Alternative Break Program
Serving the community is such a big part of JMU's culture that students even spend spring break volunteering for organizations around the country and globe. You heard that right. Every year, about 500 students participate in an alternative break trips.
Students have traveled to California to measure climate change in Joshua Tree National Park, to Missouri to serve the homeless, and to Jamaica to assist with programming at a mental health center. The options are endless and the lessons are life-changing.
Center for Multicultural Student Services
Students come to JMU from all over the world. Sharing ideas with people who think differently than you do and who are from different places than you can help change the way you look at the world.
The Center for Multicultural Student Services provides programs and services that support an inclusive campus community in which members value diversity within themselves and others. CMSS sponsors events and guest speakers for students and faculty to make connections and embrace the diverse community we live in.
CMSS is also home to 33 multicultural student organizations. These groups are diverse in their membership as well as in their focuses, with interests ranging in the areas of diversity, religious affiliation, service, multicultural Greek life and academics. For more information, check out the CMSS website.
Fraternity and Sorority Life
JMU boasts a vibrant fraternity and sorority community with over 4,200 students involved. Recruitment events for Greek organizations take place at the beginning of each semester.
Each fraternity or sorority is made up of members with broad academic and personal interests. The relationships that are formed are life-changing. Greek involvement often opens doors to networking opportunities with thousands of alumni across the country.
For more information, check out the Fraternity and Sorority Life website.