Nestled between the Blue Ridge and Allegheny Mountain ranges in the western part of Virginia, Harrisonburg is a breath of fresh air and a bit of a surprise to first-time visitors. The Shenandoah Valley is a wonderland of outdoor opportunity that needs to be seen to be appreciated. The same is true for Harrisonburg. A bustling downtown complete with restaurants, shops and culture. All within a short walk from campus.
Take a walk downtown
Harrisonburg has the variety of a larger city and the charm of a small town. And the major hub is just down the street from campus. The natural beauty of the area combined with a focus on local businesses, food and people makes Harrisonburg the perfect college town.
The historic downtown district is one of the most visited parts of Harrisonburg and offers more than 25 restaurants, 45 shops, and plenty of arts and entertainment venues. Community events and festivals are also a big deal here. The annual international festival draws more than 9,000 visitors downtown every fall.
Locally owned and operated restaurants provide food options from around the world and help make downtown Harrisonburg Virginia's very first Culinary District. Your taste buds will thank you.
Students often spend Saturday mornings browsing fresh produce and local merchants at the farmer's market. On weekdays, the farmer's market even comes to campus.
Downtown Harrisonburg also has an abundance of entertainment options for students, including art exhibits, an independent theater, concerts, trivia nights, poetry readings, DJ dance parties, open mic nights, public art and film festivals.
1st
Arts, Cultural and Culinary District in Virginia
Surrounded by beauty and adventure
Welcome to your new backyard. This wonderland is home to an abundance of hiking, mountain biking, canoeing and kayaking, skiing and snowboarding. The list of things to do is as long as your imagination. Just be sure to cap it off with a classic Shenandoah Valley sunset, a student favorite that never grows old.

from George Washington National Forest

from Shenandoah National Park

from Massanutten Ski Resort
Thanks to UREC, a wide selection of camping and adventure gear is right at your fingertips. And for the budding explorer, UREC hosts student trips throughout the year. Hop in a van with friends to paddleboard down a river, camp under the stars or climb a rock face. Incoming freshmen can even sign up for a special glimpse of the Shenandoah Valley on a Madison Orientation Adventure Trip before move-in.
Get around town
First-year students are urged to leave their cars at home, but that doesn't mean you can't get around easily. The Harrisonburg transit system conveniently operates on campus and throughout the city. You can jump on a bus to quickly move from one end of campus to the other, or to visit a local store to stock up on groceries or supplies. Harrisonburg city streets are bike-friendly as well! You are bound to see students hop on a bike or motorized scooter to reach nearby destinations in town.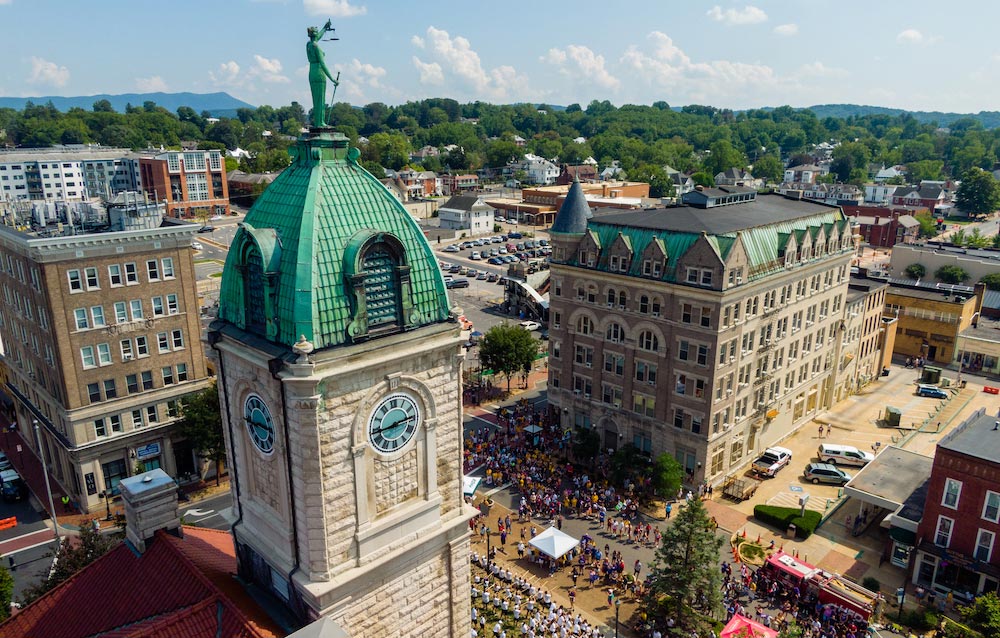 Located in the Shenandoah Valley, right off Interstate-81, JMU is conveniently accessible to travelers from across the globe. And with the recent addition of a new jet service, our nearby Shenandoah Valley Regional Airport makes traveling to and from Harrisonburg easier than ever. For information on travel options to and from campus, visit the transportation page.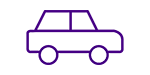 from Washington, D.C.
and Richmond, Virginia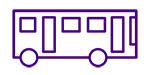 connect JMU students
to cities in the northeast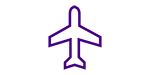 from the nearest airport,
Shenandoah valley (SHD)