School of Professional & Continuing Education (SPCE)
Regional Economic Recovery Series
---
Within the past year, we have witnessed firsthand the economic difficulties that exist within our communities as a result of the COVID-19 pandemic. While the Shenandoah Valley is known nationally as a hub of economic vitality and growth, there still exists systematic issues that negatively affect workforce and, therefore, keep us from "reaching our economic potential." Dr. Melissa Lubin, JMU's Chief Economic Engagement Officer states, "As the largest employer in the region, JMU is an anchor institution and has the opportunity and the responsibility of being a convener, a facilitator, and a leader of economic development in the region."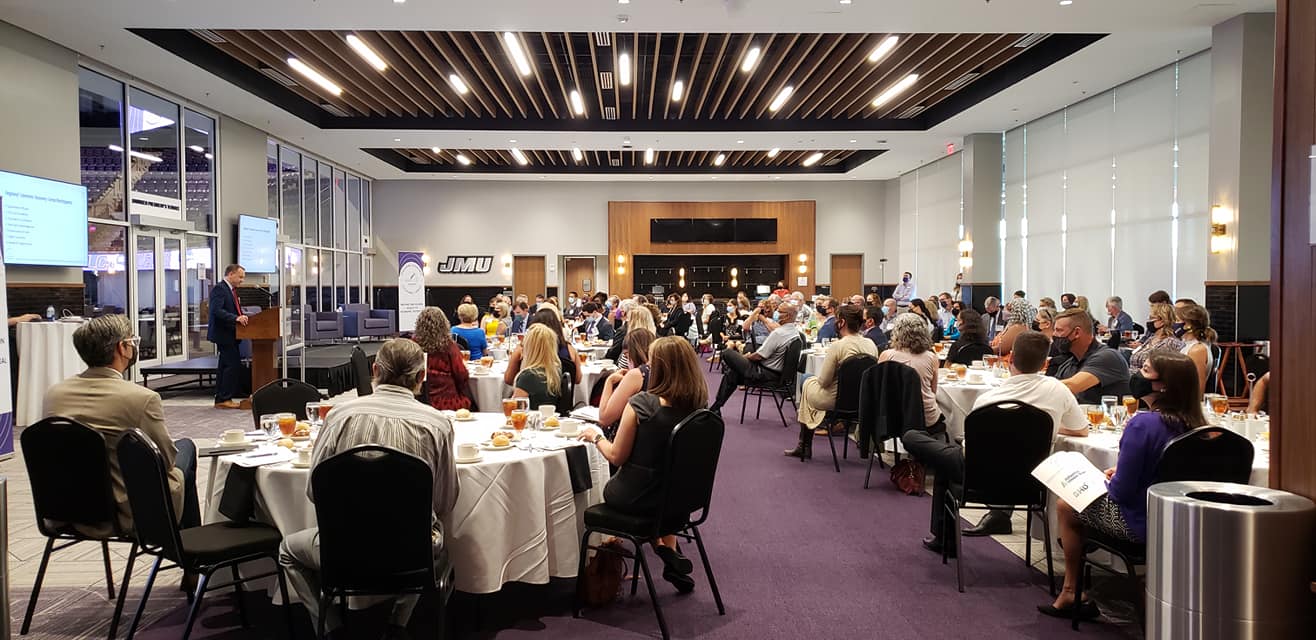 In a collective effort to proactively find solutions that will help businesses as well as local governments, nonprofits, corporations, educational institutions, healthcare, and individual families in the Valley, JMU's University Economic Development Council decided to plan an initial event to bring all stakeholder groups together as part of a Regional Economic Recovery Series. Dr. Nick Swartz, SPCE's Associate Dean and Chair of the Regional Economic Recovery, stated ahead of the event that such an event would bring together a
"diverse audience of stakeholders from all sectors across the Shenandoah Valley consisting of local elected officials, city/town/county managers, economic developers, state delegates, executives and leaders of business and industry, school superintendents, and key nonprofit executives. We recognize various stakeholder groups are having separate conversations around issues impacting our area's economic recovery and would like to convene these groups in one space, uniting these efforts with the goal of creating greater collective impact. Together we will leverage our area's diverse perspectives to explore and identify economic recovery solutions for businesses of all sizes, nonprofit organizations, and the municipal governments that serve them."
The first event of the Regional Economic Recovery Series occurred on Tuesday August 17, 2021 at the new Atlantic Union Bank Center on the campus of JMU. Thanks to the generous sponsorship of Atlantic Union Bank and Shenandoah ValleyAirport, we were able to convene over 130 leaders from within a seven-county region that were ready for action. After five months of planning, the event turned out to be a huge success with encouraging and active conversation, vital community, and inspirational speakers.
The attendees were able to hear from two panels that consisted of individuals from The Federal Reserve Bank of Richmond, the Virginia Economic Development Partnership, GO Virginia, the Shenandoah Valley Partnership, the Virginia Department of Medical Assistance Services, United Way of Harrisonburg-Rockingham County, the Shenandoah Valley Small Business Development Center.
After getting insight in the macro and micro levels of the current economic reality, participants had the opportunity to add their input, via live polling, in what obstacles they were personally witnessing in their own sectors that were contributing to workforce issues. The highest rated obstacles identified by attendees were childcare, transportation, training, and affordable housing. This first event was the first in a series of collaborative events that will all center on finding active and workable solutions to these workforce obstacles, called Priority Areas of Action.
The avenue chosen to accomplish this was to invite area leaders to sign the Shenandoah Valley Collective Action Pact. Dr. Nick Swartz states, "That's where we will, moving forward, identify working groups that will convene to work on these issues over the upcoming months … You don't know if something is going to work until you try it. So this is what we would like to present to our region as something that we can try to really get behind over the next several months to really move the needle. You kept hearing of economic potential, and that's really what this series is really about. The language in the pact is really not Covid-specific. The goal of the pact is really something that is a living document, hopefully for years to come. To my knowledge, this is the first time that we have ever done something like this in the Shenandoah Valley. I'm also not certain if we've done anything like this across the Commonwealth. So this can serve as a model."
President Alger, Dr. Lubin and Dr. Swartz are very optimistic that this vital and convening initiative will aid the Shenandoah Valley's economic growth and the community's quality of life for years to come and continue to help make us a national model of prosperity, equity, and potential. 
Read the feature story by Virginia Business. 
Visit our website for more information and get involved with a working group!