LLI Partnerships Expand Program Reach
School of Professional & Continuing Education (SPCE)
---

The Lifelong Learning Institute (LLI) of the School of Professional & Continuing Education has intentionally cultivated partnerships to enhance the value and expand the reach of its programming to the local community. These partnerships have not only strengthened the educational experience of both JMU students and LLI members but have also fostered a symbiotic exchange of generational ideas, experiences, and cultures. This exchange has significantly promoted inclusion and diversity as it supports the growth of all individuals involved.
This academic year, LLI is proud to highlight three major partnerships that have resulted in impactful events and projects that helped to enrich the experience of all those who are committed to "learning for a lifetime." 
Institute for Constructive Advocacy and Dialogue (ICAD) Partnership
During the fall semester LLI partnered with Professor Lori Britt of ICAD to host an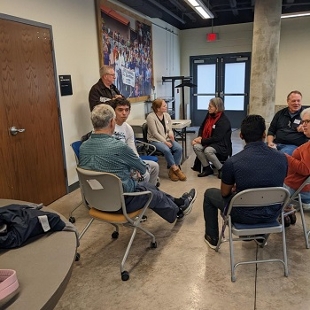 intergenerational dialogue between students and LLI members on vital and engaging topics that are of interest across generations.
This year's conversation centered around two driving questions: "How have we experienced and managed mental health and anxiety across generations?" and "How does the media impact and shape our lives and experiences?" Previous conversations have covered topics such as changing gender expectations, the purpose and experience of attending college, stress and mental health, and using digital tools to learn and connect.
According to Professor Lori Britt, these conversations have been rich and meaningful, as participants from different generations share their stories, fears, and hopes. Through these enlightening conversations, Dr. Britts' students and LLI members have exchanged ideas that foster mutual understanding, celebrate diversity, and form lasting connections.
The partnership between LLI and ICAD is undoubtedly fertile ground that will continue to benefit many in the future.
School of Media Arts and Design (SMAD) Partnership
The School of Media Arts and Design has a long-standing history of collaborating with the Lifelong Learning Institute to provide valuable opportunities for both students and LLI members. The students in Professor Elisabeth Kvernen's Elements of Creative Advertising class gain practical experience by working with LLI to tell its story. In this unique class, students work closely with LLI members by conducting interviews, filming class sessions, and more with the aim of developing storytelling advertising that will appeal to a diverse audience. Professor Kvernen shared that her goal is to expose students to an audience they do not frequently interact with which helps them better understand how to create compelling ads for such an audience.
This year, Professor Kvernen's class took it a step further and filmed special class sessions such as "Can Your DNA Really Tell You About Your Ancestors?" and "Learn to Paint Watercolor Fruit and Vegetables" hosted by Sunnyside Retirement Community. The students also had the opportunity to interview LLI members and create radio and television ads for LLI recruitment. One of Professor Kvernen's students, Maddie Ford, expressed her newfound appreciation for LLI after working with Dave Pruett and hearing about how much LLI impacted his life. She recommends LLI as a "great resource for residents of the Harrisonburg community to learn new things and create new relationships!" We look forward to continuing this collaboration and creating even more meaningful experiences!
The Dietetics Partnership
This is a new partnership between the Lifelong Learning Institute (LLI) and the School of Health and Behavioral Studies. The students in Professor Jennifer Walsh's Counselling Skills in Dietetics class gained practical, industry-relevant experience counseling LLI members on nutritional matters.
Barbara Hetzel, Director of LLI, believes that the institute is "becoming known as a place that encourages partnerships not just with the JMU community but also the broader community of Harrisonburg and beyond." LLI members are curious and thoughtful and welcome the opportunity to explore different experiences and listen to different voices. 
Barbara expresses LLI's continued openness to new partnerships. The Lifelong Learning Institute is proud of its expanding reach and the unique demographic of LLI members can provide insight and perspective that a peer may not be able to offer. Departments and classes in JMU are welcome to partner with LLI as its eager members are always willing to engage with a broader audience, whether one-on-one or in groups.