Play ball! Partnerships are Key to Hit Project Goals, Run Healthy Teams, Score Highly with Training
School of Professional & Continuing Education (SPCE)
---

As baseball season kicks off, we are reminded of the adage from Field of Dreams: "If you build it, they will come." That philosophy worked for Kevin Costner's character and his cornfield baseball diamond – but can it relate to the importance of partnerships within non-credit professional development training? I'll take a swing at it.
When 2023 kicked off, SPCE's professional development team had a familiar question: Will businesses and professionals take valuable time and resources to learn the basics of waterfall and agile project management, team communication concepts and tools, and problem-solving approaches? We had built it, but will they come? In this case, "it" is JMU SPCE's new, 100% live online, 12-hour non-credit professional development certificate titled Foundations of Project Management & Team Communication.  Our previous newsletter story highlighted a partnership with a regional biomanufacturing facility to design the course, and we previewed the training becoming available in 2023 to the general public (at only $495 per seat). But, would professionals and businesses come to take it?
Our apprehension underscores a common misunderstanding in the Field of Dreams mantra: the field itself did not create the demand for the spirits of baseball legends to play ball, nor did the field create demand for the spectators to pay and watch. That demand already existed, and the field became a place to meet that demand. Many entrepreneurs and businesses owners can attest that, in reality, simply "building it" is not enough to ensure customers will come if "it" is not tailored to meet a need in the marketplace. Only when we build what people already want and need do customers start walking out of the metaphorical cornfield.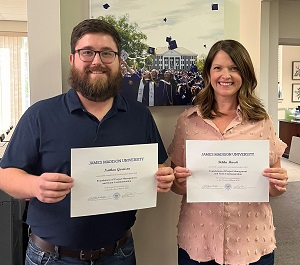 In our case, after just the first quarter of 2023, the response to our new program has left us a bit in awe. Over 100 participants from dozens of businesses and industries have participated and earned the non-credit professional developmentcertificate. Participants are continuously engaged, pass the final exam with high scores, and overwhelmingly state they would recommend the program to a colleague or friend. While multiple organizations send a team of people into an ongoing class, we were thrilled to be asked to teach a two-day in-person cohort to a team of Roanoke Higher Education Center staff. To be clear, this response indicates the new program is serving an unmet need in the marketplace: we built the right "it", and professional learners are indeed showing up to play.
In many ways, creating new training programs is an entrepreneurial endeavor that requires the combination of de-risking the investment in development by confirming alignment with industry learning needs – and it also requires some faith. Unfortunately, for JMU SPCE, this combination of confidence and intuition cannot be achieved by a customer showing up in a dream to tell us to build it. Instead, we rely on ongoing interactions with organizations and professionals who share with us where the needs, opportunities, and gaps are that can be filled by non-credit training. In this case, we are assisting professionals and teams that work on projects together, but who do not need to pursue advanced project management certifications at this stage in their career.
So, we encourage you and organization to consider enrolling in our new course. And, we also look forward to interacting if you do not yet see a training that fits your needs. If you will come, we can build it!
By Kai Degner, MBA, Director of Professional Development, JMU SPCE