News
New Training To Fill Holes In Workplace Skills
---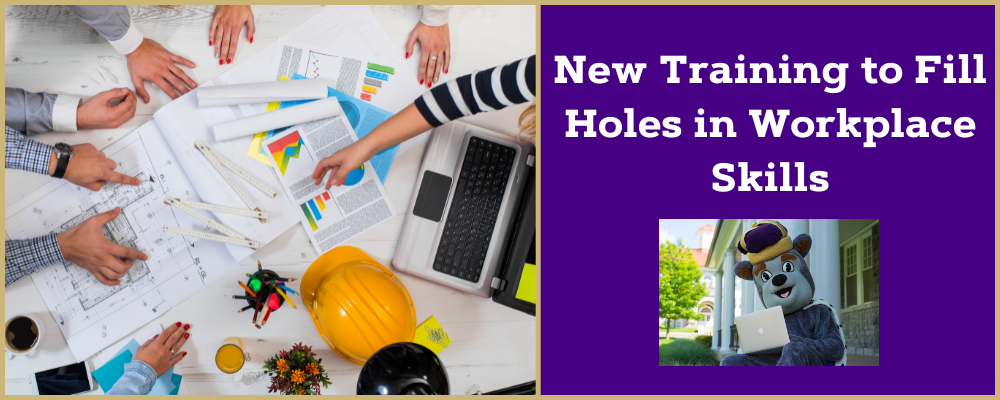 We have heard it for years: your businesses and nonprofits need an affordable and fast training option to learn project management basics. We also realize the need for training to improve team communication and to reduce workplace stress and miscommunication!
JMU School of Professional and Continuing Education (SPCE) now has a training that meets these goals – and we can deliver it to your entire organization! In the last year, the SPCE Professional Development Team partnered with a regional Fortune 100 company to design a two-day non-credit training course that hits the sweet spot between project management and team communication.
Often, project management training is too detailed and too focused on full-time project managers. Not every team member is "the" project manager, but all team members benefit from understanding key project management concepts and common project tools. The new course introduces principles of waterfall and agile project management, and explains how to use risk matrices, Gantt charts, Kanban boards, A3 reports, fishbone diagrams, and more. These tools help team members fulfill the responsibility to communicate clearly and effectively about the goals, tasks, and surprises that impact task performance and the project's timeline.
The new JMU SPCE Foundations of Project Management and Team Communications Certificate training is 100% online, highly interactive, and can accommodate up to 30 people in a class. Participants are put into virtual teams where they immediately apply the lessons and tools to a real-world case study.
Early participants in the new course see practical value in the program:
"This course was extremely enlightening and shined a light on the many different tools which can be used to increase team efficiency. Also, the content was delivered in a digestible and engaging manner. Awesome work all around!"
"I think it is healthy to identify the impacts to resources and schedules that curveballs being thrown into the project can cause. It requires a high level of adaptability in order to keep the quality of the project high."
"With our team continuously growing and changing every year, completing a RACI chart for each project would be helpful so that expectations and task awareness is clearly laid out by the team in the beginning."
"Communication is at the heart of so much of what we do even when we aren't working on projects. I love the term 'the truth of the project' and [the emphasis on being] unbiased, clear, complete, and concise I think gets to that notion of the truth of what we do."
To begin, the new Foundations of Project Management and Team Communications Certificate course is offered to groups from a single organization. The 12-hour course is 100% online, and delivered over two days. Later in 2022, the goal is to offer open enrollment courses for the general public. We hope that this new program will fill a hole in the needs of local businesses and organizations so that we can see positive impacts in the workplace community.
Those interested in learning more should contact Elizabeth Sacco, Enrollment Specialist, at saccoeg@jmu.edu, or Kai Degner, Director of Professional Development, at degnerke@jmu.edu.