School of Professional & Continuing Education (SPCE)
Chris Davidson - Economic & Community Development Engagement Fellow
---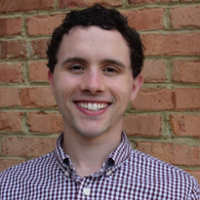 Bachelors in Geographic Science major with Environmental Studies and Humanitarian Affairs minors.
Hometown: Ashburn, Virginia
What pronouns do you use? He/Him
My name is Chris Davidson, and this year I'm working as the Economic and Community Development Fellow.
I'm a 2020 JMU grad from Ashburn, Virginia. During my time at JMU, I was a part of Club Swim, To Write Love On Her Arms, Astronomy Club, and I was an Orientation Peer Adviser (OPA) for the 2018-2019 school year. I also volunteered with Hope Distributed's food bank while at JMU. 
Q:  What do you love most about JMU? 
A:  "The importance that professors and staff place on getting involved outside the classroom. Whether that's work related to your major, volunteering downtown, or joining a club, there's a lot to be learned at college that isn't in the textbook. (And the food is really good)."
Q:  Where do you see yourself professionally in 5 years?
A:  "In 5 years I plan to go into Higher Education and work at a university/college."
Q:  What is most exciting to you about working with SPCE?
A:  "SPCE manages to work not only with the JMU community, but also the Harrisonburg community. Working with and assisting the whole area helps everyone bring each other up and makes a better environment for all. I'm also excited to learn from others in the department and grow as an individual."
Q:  What are your hobbies?
A:  "I enjoy playing and listening to music, video games, swimming, hiking, movies (especially horror)."