Virtually Clinical - The Reality of Learning Through Telehealth Sessions
School of Professional & Continuing Education (SPCE)
---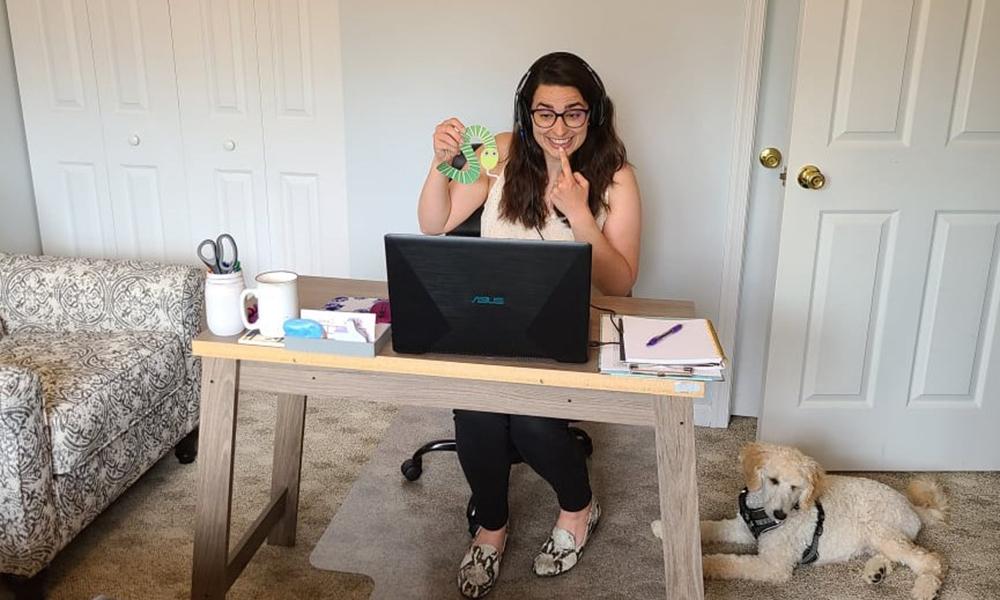 What does an innovative and brilliant approach to summer clinical experiences look like for students? Professional & Continuing Education (PCE) partnered with JMU's online master's program in Speech-Language Pathology to provide virtual clinical experiences for their students!
Clinical experiences looked a little different for online speech-language pathology (SLP) graduate students this summer.  While the majority of coursework has always taken place online, students in this program typically spend six weeks completing in-person clinical training in Harrisonburg in May and June.
"In April, one month before students were scheduled to arrive on campus, it was very clear that an in-person clinic was not possible due to the global pandemic. So, together with an amazing group of SLP clinical educators, we created a rigorous virtual summer clinic program," said Erin Clinard, coordinator for the online SLP program. 
This program included two major components: telehealth sessions, where students worked with actual pediatric clients from the JMU speech-language clinic and an online SimClinic where students participated in simulated evaluations and treatment of adult clients.
Telehealth sessions came with their own set of unique challenges. Students worked in pairs to coordinate weekly therapy services for each client.  These sessions usually took place via a video call, where the student would work with the client one-on-one and demonstrate activities and skills.  While students were accustomed to doing their coursework online, adjusting therapy for the online environment was something new.
Students quickly found that clients were already comfortable using the technology needed to facilitate virtual therapy sessions. The challenge was finding ways to bring the clinic to the client in a virtual setting. "The big adjustment was for us demonstrating interventions through video using what the clients had at home," said Victoria Bhardwaj, a student who participated in teletherapy. 
"I'm more of a tactile therapist, so figuring out how to adjust my techniques for a virtual setting was a challenge for me. It really challenged my creativity," said Madelyn Salazar, another participant.  Salazar designed an anatomy lesson for one client to demonstrate how parts of the body involved with speech work together.  She was also pushed outside her comfort zone exploring and compiling a list of online resources that her pediatric clients could access from home.  These are tools that she will continue to use with future clients.
The SimClinic also provided opportunities for growth while working from home.  Students worked from an online database of simulated cases to evaluate adult patients. In many cases, they encountered scenarios with symptoms, disorders or diagnoses that they hadn't seen or covered in class before.  "The instructor [for the SimClinic] works in the field and was able to offer real-world advice and experience. She helped me so much," said Bhardwaj. 
Participation in the SimClinic helped to develop and strengthen foundational skills, such as patient assessment, report writing and clinical documentation.  All of these are skills that students would develop during their in-person clinical experience.  The virtual summer clinic experiences not only accomplished program goals for skill development and core competencies demonstrated in the in-person learning environment, but taught them something that is difficult to model- how to be creative in adapting interventions for their clients.