School of Professional & Continuing Education (SPCE)
Lifelong Learning Institute to launch hybrid courses in fall
---

Fall 2023 is packed with great expectations as the Lifelong Learning Institute of JMU's School of Professional and Continuing Education releases course offerings for the fall semester. Enthusiastic LLI members are flocking to register for an array of captivating courses on offer this semester. But what is more interesting is that LLI has expanded its base by procuring needed technology and developing instructional expertise to use the hybrid model in delivering courses. This innovative approach stems from the necessity to provide more options for flexible engagement and course involvement when space constraints hinder in-person enrollment. Unlike the not-so-great experience of online learning some people had during the gloomy period of the pandemic, LLI's envisioned hybrid model strives to introduce a dynamic and immersive learning encounter. Through this model, remote students will be able to fully engage, feeling as though they are present within the physical classroom.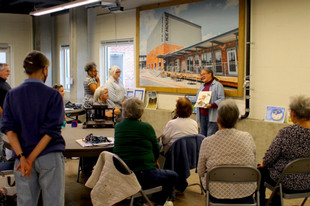 Over the summer, instructors have been trained to use the new technology and the corresponding instructional methodology to deliver a fulfilling learning experience for both in-person and remote participants in the class. While hybrid learning may be new in course delivery for the Lifelong Learning Institute, it is not to James Madison University. Over the years, it has been an integral part of the variety of instructional models used at JMU and has been thoroughly researched, optimized, and proven to be effective. The university's expansive digital resources, available through the library, assist faculty in enhancing their training, addressing challenges, and ensuring a gratifying learning experience for their students. Moreover, the university is well-equipped with resources to guide learners in navigating the hybrid classroom setting.
To test the waters before implementing the hybrid model extensively across other LLI courses, the institute will pilot two hybrid courses this fall. One, "Modern Irish Music," led by Susan Facknitz, explores the evolutionary journey of Irish music from the 1950s to the 1990s, examining the pivotal influences that shaped its development. The course also treats participants to exceptional music from legendary bands and musicians such as The Horslips, Roy Gallagher and Clannad. These artistic masterpieces provide insights into the cultural and historical undercurrents of their era. The other hybrid course, "What if?" taught by George Gruner, delves into speculative questions that revolve around American History. These questions spark discussions that thoughtfully analyze pivotal events that have shaped America's historical landscape. Examples of such inquiries include, "What if President Kennedy had not been assassinated?" and "What if August 28/29, 1776, had been a warm and clear night in New York City?".
With both instructors having more than three decades of expertise in their respective fields, the potential for deep learning is exceedingly promising. To incentivize widespread participation in this pioneering course delivery model, online participants will have their course fees waived.
Being the first of its kind in the Lifelong Learning Institute, the hybrid model is not just a beacon of advancement but a significant stride toward learning for a lifetime.
For more information about these courses and other remarkable offerings for the fall, peruse the fall 2023 catalog available here: Catalog Link.
Feel free to explore, Lifelong Learner!