JMU News
A Lifelong Anniversary 25-Years in the Making
---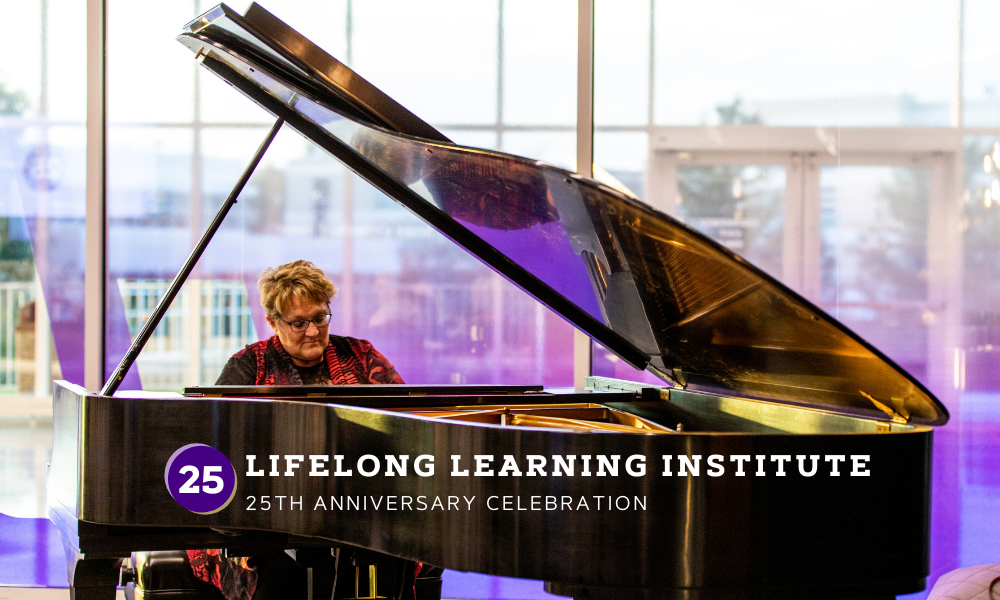 On Thursday, October 14, more than 100 people gathered at the Atlantic Union Bank Center to celebrate the 25th Anniversary of the JMU Lifelong Learning Institute.
The program, founded in the fall of 1996 by JMU professors Dr. Cecil Bradfield and R. Ann Meyers, provides a vibrant learning community for older adults.
Carol Fleming, Assistant Dean of the School of Professional and Continuing Education (SPCE), has provided oversight of the Institute since 2017 and is impressed with how the program has grown and continues to thrive. Fleming said the continuing success of the program is attributed to the high level of community engagement. Students pay a modest annual fee that entitles them to membership status and benefits. These include voting to elect representative leadership and the opportunity to actively participate in program planning.
"25 years ago, we started with just four classes and 96 students. Today, we offer a full schedule of nearly 100 courses each year and enjoy membership enrollments of more than 700 students. Our community embraces and values the opportunities we make available to adults for continuing education and enrichment. The model works because it invites students to participate as partners in education. They set the curriculum in consultation with their peers and help ensure that it remains responsive to the interests and needs of the learning community," Fleming said.
One of the elected advisory board roles is that of Historian, an office currently held by Dr. Bill Ingham, Professor Emeritus of Physics at JMU. Ingham has spent considerable time over the past two months researching the program archives. He's identified nearly 600 instructors who have taught within the program since its inception and has cataloged more than 1,500 courses.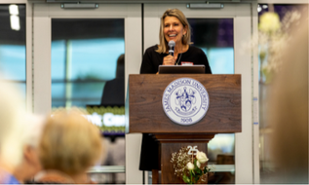 Melissa Lubin, Dean of SPCE, celebrated this collective spirit while addressing attendees as part of the event's opening remarks.
"The essence of LLI is a love for learning, a sense of collaboration, and a culture of caring. Your enthusiasm, curiosity, commitment, and dedication are contagious. Your mentorship guides and supports us, especially during challenging times. And you remind us all of what is possible when everyone is invited to contribute to the creative and implementation process."
Lubin said it was moving to see how deeply students have connected throughout the years.
"It was breathtaking to hear from members who have been learning with us since 1996 and continue their enrollment today. Their commitment to deepening our understanding of existing knowledge is inspiring. That tells us that they find fulfillment here and enjoy the opportunities we provide to come together, share intellectual interests, and make new friends through the range of exciting programs they help organize." 
Lubin also expressed appreciation for her colleagues for their contributions to such a special evening, including Dr. Heather Coltman, who provided guests with a personalized anniversary gift.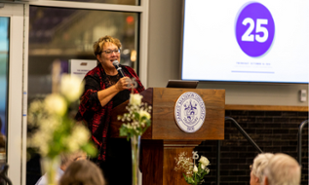 Dr. Coltman, who serves as JMU's Provost and Senior Vice President for Academic Affairs, entertained the audience by performing two musical selections, piano pieces by Chopin and Scott Joplin, an American composer dubbed the King of Ragtime.
"I loved the performances and it's fitting as that's what LLI is about. Everyone contributes," Lubin said. "And we invite everyone to join us as we continue this legacy of learning." 
Visit the LLI website to learn more about courses, register for an event, become a member, and so much more: www.jmu.edu/lli.