School of Professional & Continuing Education (SPCE)
Jordan Hays - Fulfilling Her Public Passion
---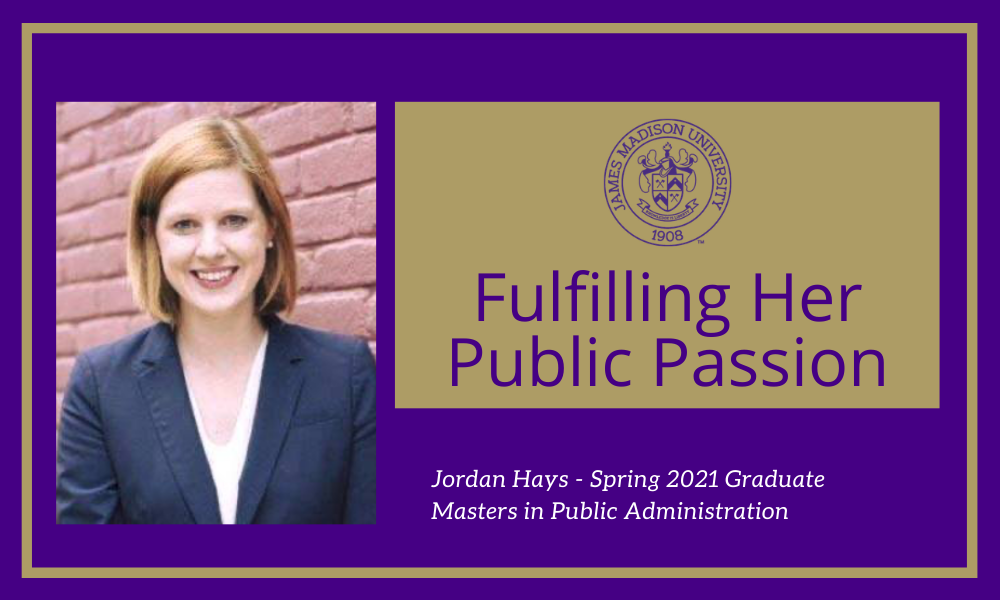 Jordan Hays, our PCE Graduate Assistant within Economic and Community Development, is an excited member of the Spring 2021 graduates with her Masters in Public Administration.
We were able to catch up with Jordan and allow her time to reflect upon her time with us.
- How have you grown professionally? What have you learned?
My previous career offered few opportunities to work collaboratively. In my time as a GA, I have learned how to collaborate as part of a team. Through my work with the MCCD team, especially on ProjectTHRIVE, I have seen the value of collaboration. 
- What's next for you after graduation?
Hopefully, some rest with my husband and dog at our home in Staunton. 
- What advice would you give another GA looking for a GA opportunity?
I would encourage GAs to consider positions outside of their academic department, like PCE. I've really enjoyed the interdisciplinary nature of my team and GA cohort, and I would've missed that if I had chosen a more traditional GA position within the Political Science Department. 
Associate Dean and Director of Madison Center for Community Development, Dr. Nicholas Swartz, reflects on Jordan's time with PCE.
"As the Madison Center for Community Development GA, Jordan has been deeply engaged in our economic and community development work.  I'd like to highlight a few of the projects and initiatives she worked on over the last two years: 
She served as one of the inaugural members of the Fly SHD Community Air Service Task Force where she took a lead role in writing Engaging the Community: University Convener and the Value of Regional Air Service in a Rural-Metropolitan Area for Vibrant Virginia.  
She helped lay the groundwork for PCE's new Policy and Procedures Manual and helped develop 2 Madison Trust proposals:  1 focused on intergenerational programming and the other on the creation of a new program called Madison Community Consultants.      
Jordan spent the majority of her second year helping develop Project THRIVE, PCE's new cohort based program dedicated to helping our region's businesses and nonprofits move from surviving to thriving.
Jordan has such a bright future ahead of her and I wish her nothing but the best in her future endeavors!"