School of Professional & Continuing Education (SPCE)
Jacob Weinheimer - An Internship of Economic Proportions
---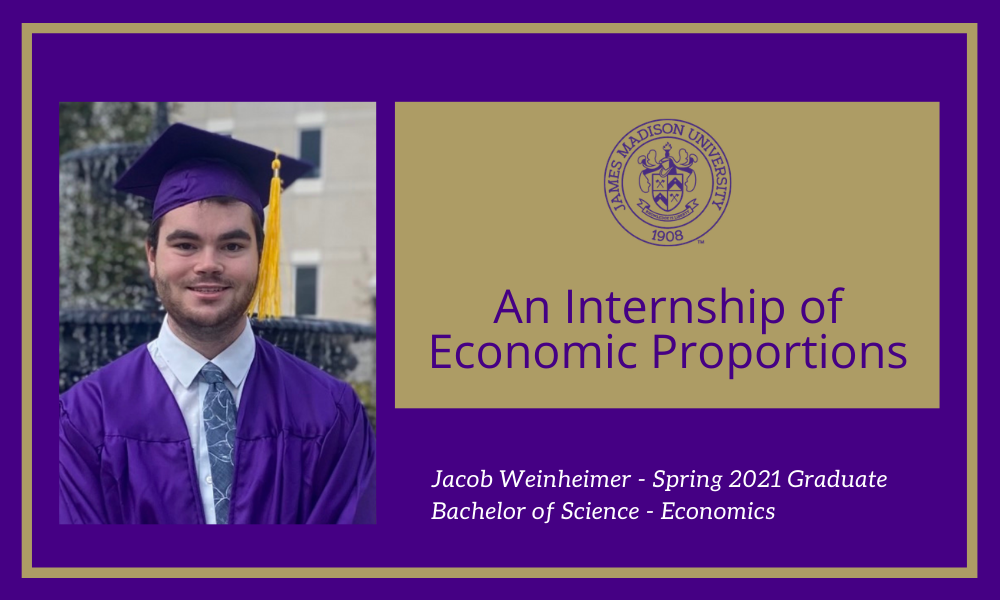 Jacob Weinheimer, a May 2021 graduate and Economics major, has spent part of his final semester participating in an internship within Economic and Community Development in Professional & Conitnuing Education. According to supervisor and Associate Dean of PCE, Dr. Nick Swartz, "Though Jacob only worked for PCE as our economic and community development intern for one semester, he definitely made a positive impact in the future direction of PCE's economic and community development programming. Jacob exceled in his internship where he focused on 4 core competencies. Jacob's work helped lay the foundation for new programming including Project THRIVE, Madison Community Consultants, and JMU's upcoming Economic Recovery Series."
Explore how Jacob viewed his experience this past semester.
- How have you grown professionally? What have you learned?
Through my internship under Madison Cener for Community Development, I have grown to become more independent in a professional field, especially during a virtual internship. Because of the Covid-19 pandemic I spent my internship virtually. This was challenging, especially in the beginning. However, over the course of my internship I grew more independent, attempting to find work and research on my own. I made interpersonal connections with a majority of the PCE staff, participating in and organizing weekly virtual meetings.  I learned how to organize and manage my time in a virtual setting. I also improved my skills on identifying case examples relevant to a potential new program idea, collecting these examples, organizing, and summarizing the results.
- What's next for you after graduation?
After graduation I will finish my lease out in Harrisonburg through the remaining of the summer working at Clementines. I will be actively searching for employment in either economic and community development, non-profit management and organization, public administration, human resources, or business development.
- What advice would you give another intern looking for an internship opportunity?
As a senior, there are a myriad of things I wish I had done differently. One is start interning as soon as you can. Because of the Coronavirus pandemic, many of my internships ended up being cancelled/postponed. Also, don't be afraid to think outside the box when searching for internships. While LinkedIn and Handshake are two great engines to search for internships, asking your professors, advisors, and other staff about local opportunities can be just as rewarding. Finally, don't be afraid to reach out to specific companies or firms if you have an interest in interning there. If they do not have a spot, they are often happy to refer candidates to similar positions.
Dr. Nick Swartz says, "I believe his internship experience with PCE not only exposed him to the role of higher education and economic development, but solidified his interest in a career in economic and community development. I look forward to learning how Jacob is making a positive impact in whatever community he serves." 
We look forward to seeing what new strides Jacob sets himself to!