School of Professional & Continuing Education (SPCE)
Katherine Chiu - An Unexpected Engagement
---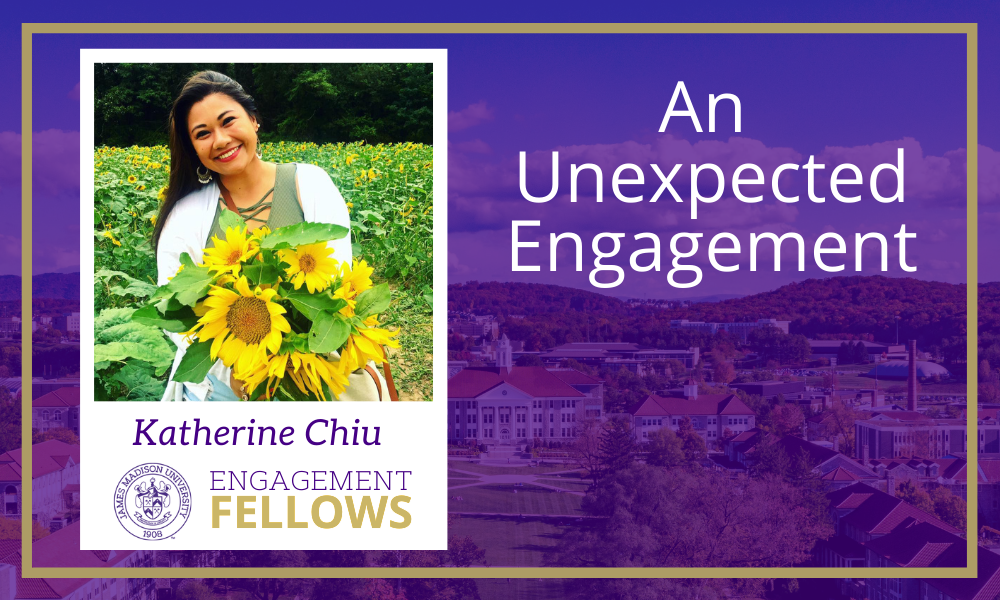 Professional & Continuing Education has valued the experience of including a Presidential Engagement Fellow as part of our team for the year. Katherine Chiu, our fellow for the 2020-2021 school year is seeing her time with us come to a close.
Katherine is from Ellicott City, MD and graduated from JMU in 2020 with a Bachelor of Science in Public Health Education and minors in both Pre-Medicine and Medical Humanities. We asked her some questions about her time with us at PCE as the Economic and Community Development Engagement Fellow.
- Have you grown professionally through the Engagement Fellows Program? What would you say is your most unexpected takeaway from this experience?
As an Engagement Fellow, I have had a unique opportunity to explore my future career and academic interests while gaining hands-on experience and developing meaningful connections within the JMU community. Working with Professional & Continuing Education, in particular, has been invaluable to my growth as a young professional. I was very fortunate to work directly with Dr. Nick Swartz, who gave me full ownership and creative freedom with my projects.
Throughout my Fellowship, Dr. Nick Swartz has given me countless opportunities to strengthen my skills in research, digital content creation, and program development. However, he has also challenged me to learn about and operate within an entirely new field. During my time as an undergraduate student at JMU, the focus of my studies and extracurricular activities revolved around health. As such, the intersection of higher education and economic and community development was very unfamiliar to me at the beginning of my Fellowship. Despite this, I was pleasantly surprised to find that many of the skills I developed during my undergraduate experience were applicable to this field and highly beneficial to my projects. 
My greatest takeaway from my work at Professional & Continuing Education is the value of partnerships in rapidly responding to niche community needs. Without strong relationships with our local and regional partners, this work would simply not be possible.
- Tell us a story of your best/funniest memory from your Fellows Program.
Even though my Fellowship experience was entirely virtual, there was never a dull moment working with my team! I am very grateful to have worked alongside people who value humor, positivity, and optimism.
Personally, one of my favorite memories from this past year was engaging in the Madison Trust process. In fall 2020, my team submit a proposal for a new student opportunity called Madison Community Consultants, which will officially make its way to campus in fall 2021! It was an absolute honor to not only submit a proposal that was selected as a Madison Trust finalist, but also have the responsibility of curating and co-delivering a presentation for potential investors and the JMU community-at-large. This was an integral part of my Fellowship experience, and I am extremely proud of the outcome of this event.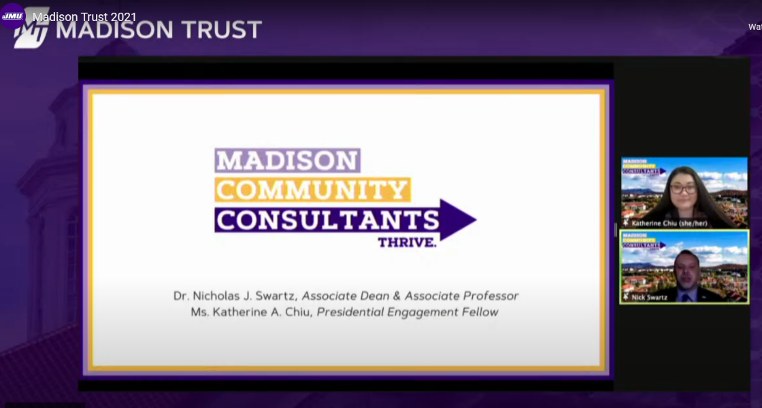 - What would you say is your biggest accomplishment from this experience?
Aside from the rewarding experience of engaging in the Madison Trust process, I believe my greatest accomplishment was developing two new programs that directly support the mission of Professional & Continuing Education. The programs I have had a large leadership role in creating include Project THRIVE and Madison Community Consultants! Project THRIVE is a six-week series that aims to assist Shenandoah Valley area businesses and nonprofits move from surviving to thriving, particularly in the face of COVID. Madison Community Consultants is a hands-on experiential learning opportunity that allows students to work in interdisciplinary teams and collaborate on projects that assist local businesses and nonprofits. Both of these programs will make their debut in 2021, and I really look forward hearing about how they positively impact the community. Although I wish I could have a role in the implementation of Project THRIVE and Madison Community Consultants, I am extremely proud that my team was able to develop these ideas and bring them to fruition in such a short period of time. 
Dr. Nick Swartz also reflects on Katherine's time and experience with PCE. "We describe the JMU Presidential Engagement Fellows Program as an opportunity to experience a transformational year of public service.  While I recognize Katherine experienced a year of transformational service, so did the PCE Economic and Community Development team. I, too, experienced transformation and am grateful for the significant interactions I was able to have with Katherine. Though Katherine worked on several projects over the course of her time as an Engagement Fellow, her primary responsibility was to assist in developing two new programs designed to help area businesses and nonprofit organizations move from surviving to thriving as a result of the economic downtown in the economy due to the COVID-19 pandemic. As a result of Katherine's work to create Project THRIVE and Madison Community Consultants, businesses and nonprofit organizations will experience positive transformation. I thank Katherine for her curiosity, professionalism, positive attitude and friendship and wish her nothing but the best of luck as she begins the next chapter of her life! Katherine's future looks bright!"
How do you feel that your perspective in regards to your next steps has changed when compared with a year ago? What are you excited about in regards to your next steps?
A year ago, I had a very rigid idea of what my next steps would be and felt compelled to follow a particular career path. Since then, my approach to my career and life, in general, has changed dramatically. Now that my Fellowship is coming to a close, I am excited to continue learning new information, exploring what I am capable of, engaging in meaningful projects, and forging my own path. Although there are still many uncertainties for me, I am eager to embark on the journey that lies ahead.