Where innovation ignites
Every year, philanthropic investors fuel JMU innovations through Madison Trust. Think of a certain TV show but without "sharks" and instead JMU alumni and friends who believe in and are ready to back their fellow Dukes.
Review this year's top 10 projects,
which were revealed on March 11, 2022, in our latest funding event.
Innovation ignites in Madison Trust and grows in service to the world.
Our philanthropic investors are a group of discerning donors who foresee the local, regional, national and/or global impact of the faculty and staff projects they choose to support — and who do not receive any financial return on their contributions to Madison Trust. These are people with imagination and insight. They are savvy visionaries who consider innovation the key to tackling the toughest problems.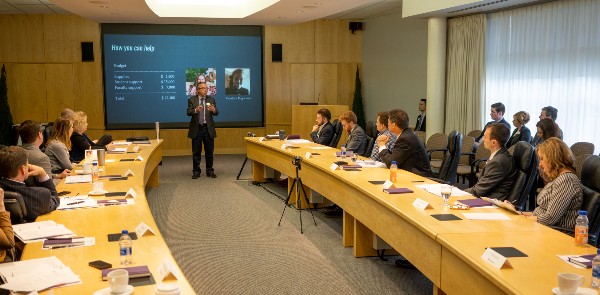 Since 2014, donors to Madison Trust have provided $924,884 to 77 worthy projects. 
IN THE NEWS
---
2022 Madison Trust pitches online
March 11, 2022 (HARRISONBURG, Va.) — This event was livestreamed from James Madison University. Watch as this year's top 10 JMU faculty and staff innovations are revealed and pitched to a panel of philanthropic investors. Read more 
Everything old is new again: Old medical supplies find new life in Africa
Feb. 10, 2022 (DIJIBOUTI, West Africa) — 2400 face shields, 126 crutches and canes, 16 hospital beds, 10 wheelchairs, four boxes of surgical instruments, an ultrasound machine... Read more 
Professor's animal monitoring innovation earns patent with donor assist
Winter 2022 — Biology professor Katrina Gobetz received a U.S. patent for her Animal Monitoring Data Station, a novel idea developed at JMU and supported by donors from Madison Trust. Read more
Students contribute to FDA salmonella research
Nov. 11, 2021 — JMU students are looking to understand the Harrisonburg community in a unique way. Read more
Dukes in space! JMU Team test launches their high-altitude balloon, "Hi-SAT One"
Nov. 7, 2021 (VINTON, Va.) — The JMU DukeSAT team took its first steps toward space on Sunday. Read more
Madison Trust is an initiative of University Advancement managed by the office of Corporate & Foundation Relations in collaboration with colleagues and campus partners from across JMU.