Replay the 10th annual Madison Trust held on campus and online March 10, 2023.
Where innovation ignites
Every year, philanthropic investors fuel JMU innovations through Madison Trust. Think of a certain TV show but without "sharks" and instead JMU alumni, family members, and friends who believe in and are ready to back their fellow Dukes: faculty, staff and students who are Being the Change on campus, in our community, and around the world.
Innovation ignites in Madison Trust and grows in service to the world.
Our faculty innovators seek seed money to secure proof of concept, launch programs, conduct novel research, develop inventions, and more.
Our philanthropic investors are discerning donors who foresee the local, regional, national and/or global impact of the faculty and staff projects they choose to support — and who do not receive any financial return on their contributions to Madison Trust.
Together, we bring imagination and insight to life. We are savvy visionaries who consider innovation the key to tackling the toughest problems.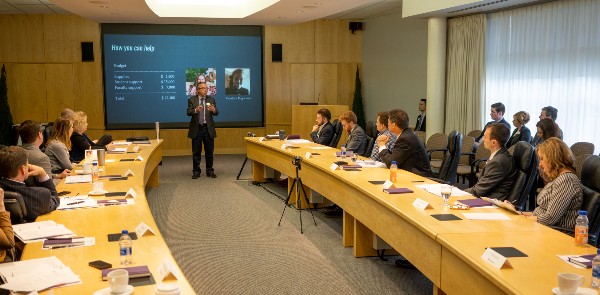 Since 2014, donors to Madison Trust have provided more than $1 million to more than 100 worthy projects. 
IN THE NEWS
---
Meeting the need: "I couldn't have made it there without my professors ..."
February 2, 2023 — In 1952, a college scholarship brought Jeannette Williams to Harrisonburg, Virginia. When funds fell short for continuing, a faculty member stepped in ... Read more
Continuing the impact: Giving back — and getting back to campus — with Madison Trust
January 26, 2023 — Representing the JMU Alumni Association at the 2022 Madison Trust, Wei Huang expected to have fun. What he didn't expect was to be so inspired by these projects that he'd chip in his own money, too ... Read more
Being the future: What it's like to forecast and help fund innovation as a family
January 13, 2023 — Susan and Mark Sumner and their children, both JMU alumni, are shaping the university's direction and impact through Madison Trust ... Read more
Discovering a passion: Big ideas keep growing for STEM outreach
January 6, 2023 — How did Kerry Cresawn's station-wagon-based initiative evolve into a breakthrough STEM camp bringing hundreds of Virginia high school students to JMU? ... Read more
Everything old is new again: Old medical supplies find new life in Africa
Updated December 5, 2022 (KYIV, Ukraine) — 2400 face shields, 126 crutches and canes, 16 hospital beds, 10 wheelchairs, four boxes of surgical instruments, an ultrasound machine... Read more 
Building a better world: Architecture students rescue local trees from the landfill
November 11, 2022 — Last spring, Assistant Architecture Professor Nick Brinen stood before the 2022 Madison Trust attendees asking them to fund his idea for giving students hands-on experience with designing projects and then actually building them. Brinen's design-build approach would give JMU's program something rare in architectural education. Read more
Madison Trust is an initiative of University Advancement managed by the office of Corporate & Foundation Relations in collaboration with colleagues and campus partners from across JMU.