Research and Scholarship
Building accessible community in the lab
---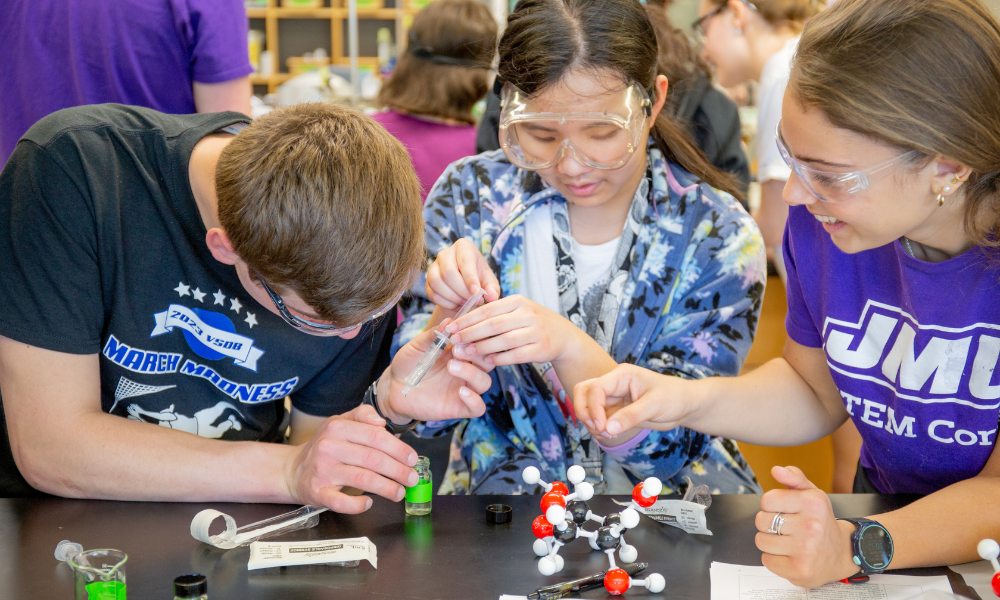 SUMMARY: Using competitive funding from the Madison Trust and Research and Scholarship, the James Madison University Center for STEM Education and Outreach piloted a successful chemistry lab experience in partnership with the Virginia School for the Deaf and the Blind.
---
What happens when JMU faculty who are committed to quality K-12 STEM education join forces with alumni and community partners who are equally committed to that goal? Their combined expertise transforms into an outreach program that engages students in research and classroom activities that align with the real-world problems currently being addressed by scientists, technologists, engineers and mathematicians.
Available for the first time in 2022-23, the JMU STEM Experience, a field trip program designed for students in grades 7-12, is a collaborative outreach program offered by the James Madison University Center for STEM Education and Outreach, serving 475 middle and high schoolers during its inaugural year. Using competitive funding from the Madison Trust and JMU Research & Scholarship, Center Director Dr. Kerry Cresawn worked with her team to develop a model and pilot a Materials Science Chemistry lab, which led to the creation of 12 additional experiences offered last year, including an adaptation of the pilot program for students with visual impairments. Seven of these field trips will remain in rotation for the coming academic term, two of which will be adapted for students who are blind or low vision.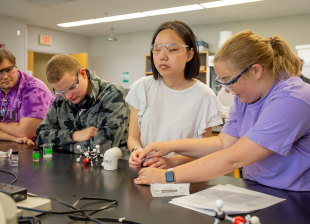 The pilot had several phases, including original student research conducted under the guidance of Chemistry faculty Brycelyn Boardman and Gretchen Peters, and then modification of the resulting research protocols under faculty supervision and with financial support from a Research & Scholarship summer student research grant. Once the correct protocols were in place, Chemistry instructor Lindsey Sequiera continued the process by testing the lab with two separate groups of sighted high schoolers and collecting information about their needs during the experience.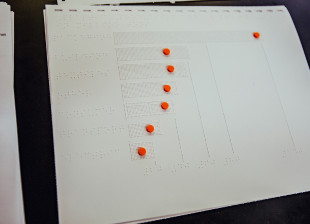 That feedback allowed Sequiera to work with Virginia School for the Deaf and the Blind (VSDB) instructor Dylan Boeckmann ('18, '19M), VSDB mobility specialist Lisa Auwarter, and the STEM Center team to make the necessary adjustments to the protocol to allow 9-11 grade students from VSDB to fully engage in a lab experience facilitated by 12 STEM Corps volunteers from seven majors across JMU. Cresawn praised the work done by the STEM Corps members during that phase of the process, saying, "[they] were so good at working one-on-one with the [VSDB] students. They jumped right in and were well-prepared to help explain and facilitate discussions despite more than half not being STEM majors." Since the VSDB participants were blind or low vision, the group focused on tactile results collection, and during the data analysis part of the lesson, braille versions of the charts were used to conduct the data analysis.
When asked about his students' lab experience, Boeckmann said, "This was really their first school trip since COVID so there was a lot of excitement on campus building up to this event. Naturally this has led to a lot of people asking how the trip went, and I have honestly had trouble putting into words just how incredible the experience was from top to bottom.
I had high expectations for this trip and at every step of the way, those expectations were met and exceeded."
Given the successful educational outcomes for all students involved, Cresawn and Boeckmann hope to build this relationship between JMU and VSDB, with Boeckmann arranging STEM Center field trips for his students in both the fall and spring semesters. As Cresawn and her team are able to recruit more JMU faculty to modify their curriculum for use with middle and high schoolers, they hope to craft additional field trips, with proper support for students with disabilities, in other STEM subjects, such as engineering, environmental science, neurobiology or other cross disciplinary studies. Cresawn stated, "It's our goal to make [the JMU STEM Experience] a sustainable partnership that provides middle and high school students with lessons in scientific or engineering practices and more applied, real-world STEM experiences modeling JMU faculty research."
Photos courtesy of Sienna Ferraro Shiblie ('23)