School of Professional & Continuing Education (SPCE)
Addison Boyer - Collaboration on the Half Shell
---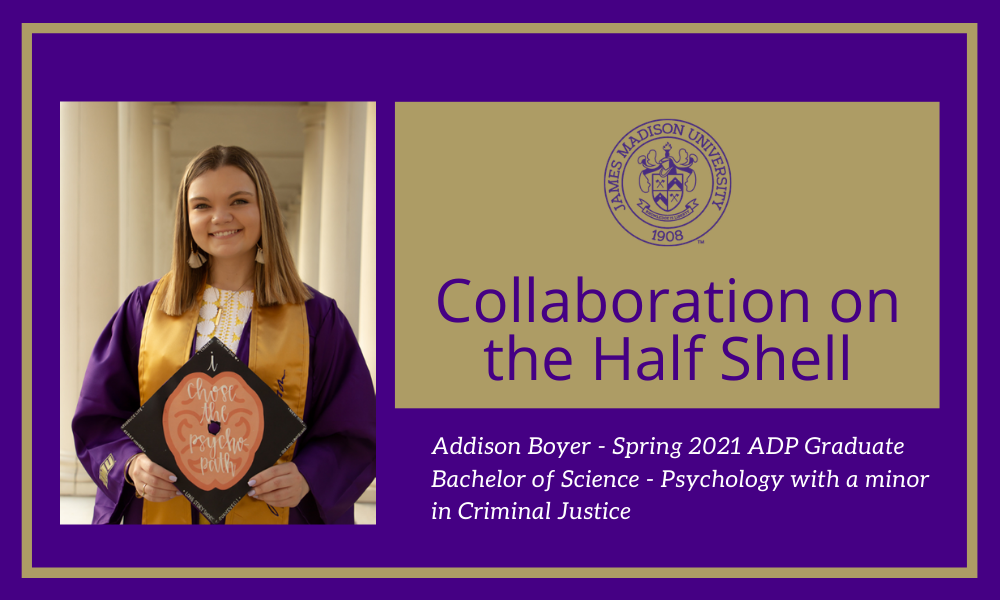 As graduation season comes into focus, the Adult Degree Program (ADP) is proud to recognize our intern, Addison Boyer, who has graduated this May with a Bachelor of Science in Psychology and a minor in Criminal Justice. Addison Boyer spent part of this last semester interning with JMU's Adult Degree Program in partnership with JMU's Department of Psychology.
Addison has spent the past semester working in collaboration with ADP student volunteers to develop an asynchronous peer mentoring and networking discussions forum in order to help stimulate student interaction in a virtual format. In addition to her work on improving the ADP student experience, Addison also completed a series of research projects related to peer mentoring, effective marketing strategies, and student engagement for non-traditional higher-education populations.
We asked Addison some questions to learn more about her internship experience:
- How have you grown professionally? What have you learned?
Throughout this semester, I have made significant strides in my professional life. I feel as though I have learned a lot about how to interact with others in a professional setting, how to balance a professional life and a personal life, and how to measure my own growth in a professional manner. This has been a very rewarding experience for me overall!
- What's next for you after graduation?
After graduation, I will be moving to Oxford, Mississippi to pursue my Master's in Clinical Mental Health Counseling at the University of Mississippi!
- What advice would you give another intern looking for an internship opportunity?
My advice to someone looking for an internship opportunity would be to be patient, keep working to find one, and never give up in your search! I had two previous internships lined up prior to this experience that fell through due to the pandemic and it was frustrating to say the least, but I am so grateful that I have had this opportunity in the ADP to grow professionally and gain experience in a field that I am passionate about!
Windi Turner, PhD, Director and Academic Unit Head for ADP, stated, "Since the midterm evaluation in March, Addison has focused on the launch of our Peer Mentor/Networking group which has met twice under Addison's leadership. This has been a stand-out project for Addison and she excelled at organizing the group meetings and keeping the group focused and on-task. She created agendas and provided valuable assistance and feedback for the launch of our asynchronous peer discussion boards in Canvas.  Addison also had a support role in our Virtual Office Hours in March and helped with data collection on advising needs (e.g. number of appointments, emails)."
Outside of her time with ADP, Addison has been an active and dedicated member of the JMU community, working as an Resident Assistant and serving as a member of the Student Advisory Board. Although we will miss Addison greatly, we are excited for her next ventures. We wish her the best!