School of Professional & Continuing Education (SPCE)
Transformative journeys: The stories of ADP graduates
---

Achieving a degree is a significant milestone in anyone's life, but for the graduates of the Adult Degree Program at James Madison University's School of Professional & Continuing Education, it is a testament to determination and perseverance. In this edition of Connections Newsletter, we celebrate the accomplishments of our 45 ADP graduates from the May cohort and 26 from the August cohort. We talked with several of them about their experience in the ADP program. It's clear from their responses that their time in the JMU Adult Degree Program has been incredibly enriching, equipping them for the next chapter in their lives.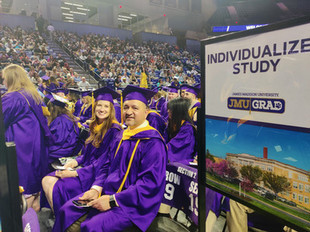 Reading through the testimonials of these graduates, one cannot miss the overwhelming gratitude expressed forthe privilege of earning their degrees in a program that strikes the perfect balance between sophistication and flexibility. ADP enabled them to pursue their learning goals while successfully juggling diverse family and career commitments. Among these inspiring stories is Salah Abdallah's journey, who, despite being a working parent with two young children and facing interruptions due to the war in his birth country, Iraq, persisted in his pursuit of a degree in Information Systems Technology. For Salah, this degree has not only opened doors to better career prospects at his current workplace but also positioned him as a promising candidate for other exciting opportunities.
Similarly, Nicholas Weaver's acceptance to the JMU Master of Business Administration program speaks to the strong foundation he gained in completing the Adult Degree Program. Before applying for the program, Nicholas was worried about being able to continue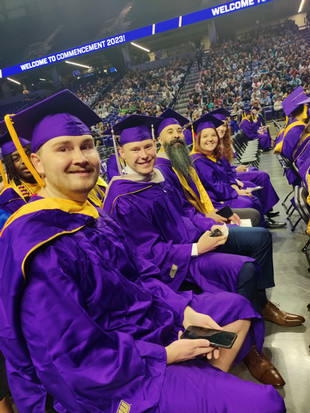 on to graduate school with his bachelors from ADP. However, he has now been accepted into the highly competitive MBA program at JMU. Nicholas hopes to earn his doctorate eventually and build a career in academia.
A good number of our current graduates acknowledge the equal opportunities JMU offers all the students and the quality of work they were able to complete within the program. Gabby Clark, who had her concentration in Early Elementary Education was particularly excited about the Study Abroad Program that allowed her the opportunity to study in Germany. In her words: "It was a once-in-a-lifetime experience that I cannot properly describe!" Gabby was happy that this opportunity was not reserved for typical students only but accommodated ADP students also. ADP graduates are proud of the work they completed during their time in the program. Maxwell Heinemann identified one of his fulfilling moments in the program as the moment he completed and presented his senior research paper. His project required months of dedication, and seeing it culminate in a successful presentation was gratifying and reflected his growth and development as a professional. The ADP program provided him with the opportunity to work on this long-term project, allowing him to showcase his knowledge and skills in a tangible and rewarding way.
Support from the program's faculty and staff plays a pivotal role in the success of ADP students. All the graduates we spoke with acknowledged the incredible assistance they received from their academic advisor, Virginia Trovato. Regular meetings with their academic advisor ensured they stayed on track to graduate. The program's faculty also played a vital role in graduate success. Beyond their instructional responsibilities, many go the extra mile to find and share opportunities with their students. Maxwell was encouraged by one of the faculty members to apply for financial aid through FAFSA and scholarships. Being awarded this scholarship covered the tuition for his entire senior year, alleviating a significant burden and allowing him to focus on his studies.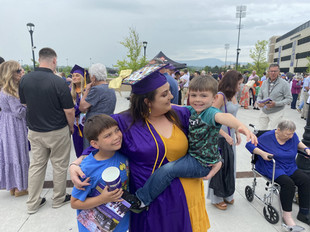 The on-campus Commencement Ceremony was an exciting moment for all the graduates in attendance because they had the chance to finally meet their classmates in-person who they have previously only worked and communicated with virtually via Zoom, discussion boards, and email. Despite being online, this shows the impressive level of interactivity and collaboration at work in the program, enabling students to build life-long personal and professional relationships that will propel and support their growth.
To prospective ADP students, the graduates offer valuable advice.
Maxwell emphasizes the significance of starting as early as possible, as getting started is often the most challenging part. ADP provides the necessary tools and support to ensure students stay on track and graduate in a timely manner. The program's flexibility and commitment to meeting the unique needs of working adults make it an outstanding choice among educational programs.

Salah confirms this when he says that "ADP is well designed for working adults. The flexibility in this program is an outstanding aspect that accommodates working adults. I was able to study for my classes at times that were most convenient for me, which happens to be after college hours." In addition to this, Salah says that professors in the program are committed to the academic and career success of every ADP student.
As we celebrate the accomplishments of the ADP graduates, we recognize the impact of their academic journeys. Their stories are a testament to the power of determination, the value of support, and the transformative nature of education. James Madison University's Adult Degree Program has made a lasting difference in the lives of its graduates, equipping them with the knowledge, skills, and confidence to pursue their dreams and make a positive impact in their chosen fields.
A special message from the ADP Director and Academic Unit Head, Daniel Robinson reads: "We at ADP are so proud of you, our newest ADP alums. We hope you relish this accomplishment to reflect on all the learning you have done, challenges you've met, and obstacles you have overcome. We are privileged to help you meet your educational goals, and your achievements pave the way for the continued success of the program.
And with this we say, "Go Dukes!"