Events and Articles will not appear in feeds if certain options are not enabled. To make Events and Articles appear in feeds, follow these steps:
In the top toolbar of the

Article

or

Event

, select: Edit > Configure tab
Check the boxes next to "Include when Indexing" and "Include when Publishing."
Click "Submit" in the vertical ellipsis
If still not displaying in the feed, check that the Publish Date on the Metadata tab is the correct date and time. If the Date is in the future, change it to the current date and time, then save/publish. 
Check that your

page

has a

tag

on it.  The "Top Stories"

feed

depends on the

page

having a

tag

.
If the

Article

s are more than a couple years old, the

article

configuration will need to point to the "Archived" content type. Email itweb@jmu.edu for help setting that up.
In the top toolbar of the

page

hosting the

feed

, select "Edit"
Locate the first

tag

on the

page




Right-click on the

tag

and select "View"
The News Home and News Archive values should be linked. If they are not, you will need to edit the values to direct to the correct topic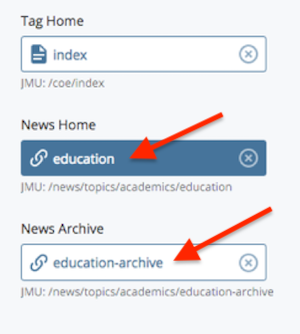 The rule for the tag News fields is that it makes the "read more" link choose between the Home and Archive links to take the user to whichever of those two pages they are not currently on.