This page is in reference to deleting documents only. You may delete files such as content blocks whenever you want.
Step 1: Check relationships
When you are working with your webpages, it is very dangerous to delete documents. Instead, documents can be edited, or moved to a "z-archive" folder when they are outdated or otherwise unusable. However, before moving to a "z-archive" folder, please check if the document has any relationships. To check to see if documents have relationships:
In the document's top toolbar, click "More", and in the dropdown menu, click "Relationships"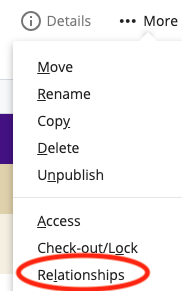 Step 2: Remove internal links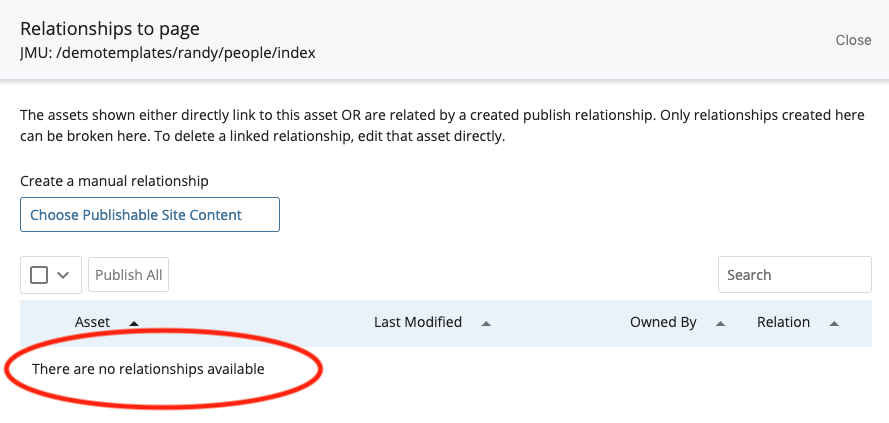 If the document does not have any relationships, the message above will appear. If the document still has relationships, meaning if it does not say "There are no relationships available", then all "Internal" links to the document need to be removed in order for there to be no broken links on your website. To remove internal links, folow these instructions:
Navigate to the pages that are linked to the page you are trying to delete
In the top toolbar of those pages, select "Edit"
Either in the "EZ" page content area or the multi-block's WYSIWYG content field, highlight the linked text and select the "Remove link" button in the toolbar
Repeat these steps for all internally linked pages
IMPORTANT: Deleting documents often results in broken links. This creates frustration for users who see error messages instead of the content they were looking for. Moving files to a "z-archive" folder will cause a script to detect if there are links to them, and you will automatically be notified.
If you move a document that still has relationships to a z-archive folder, the warning message below will appear. In this case, select "Cancel" to prevent broken links from the document you were about to delete.

Note: If you abolutely must delete a file and cannot move it into a "z-archive" folder, contact marketingemail@jmu.edu to discuss the options in order to avoid broken links.
Restoring Deleted Documents
When something is deleted, it gets sent to the "Trash" where it will be stored for 10 days. If something is deleted, it can be restored to its original location from the Trash before the 10-day limit. After 10 days, you will not be able to recover anything that has been deleted. To restore a document, follow these instructions:
1. In the Site Content panel, scroll to the top of the file list and click "Trash"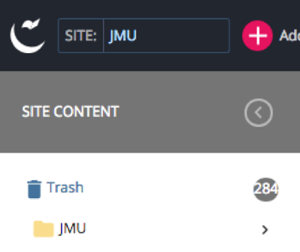 2. Check the box next to the document you want to restore, and then click the "Restore" icon