Cascade Interface: Navigating the folder structure
Once you have logged into Cascade, here is how you would navigate to, and find your way around, the file structure of your website.
Step 1: Go to the "JMU" site
Once you are logged in, you will see the homescreen. To navigate to your website, click the "JMU" link in the "My Sites" box.  It will direct you to the JMU "site", in which your website(s) reside.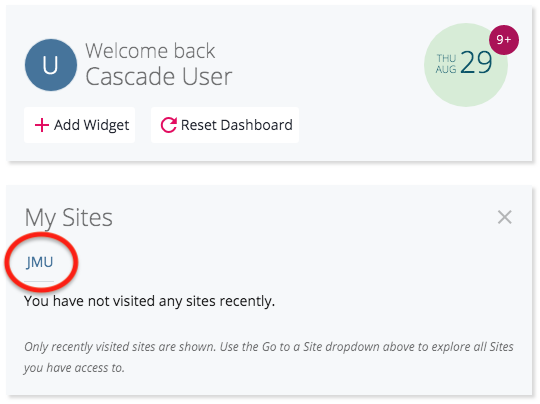 Step 2: Locate your website folder
Next, you will see the "Site Content" panel on the left side of the screen. There should be several folders listed, some of which are shared folders that you may need access to, and one or more of them will be your website folder.  In this example, the website folder is called "your-website".  Note that your specific website will not be named "your-website." This is just a generic example.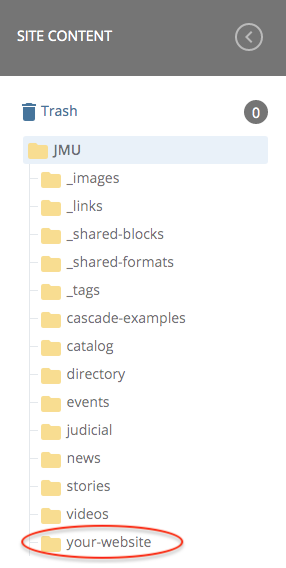 Click on your website folder, and it will expand to show its contents. In this example, it is showing the contents of the "your-website" folder, which expands to show a subfolder named "_content" and a document named "page". "Pages" have an icon that looks like a document with lines of text. You may see other icons in your folders, too. Here are the three most common types of files you may see in your folders:

"image" and "page" are self-explanatory, but "multi-block," shown in the image as "content block," is more complex and will be explained later in this documentation.
Clicking on a document, such as "page" in this example, will open the page for editing in the Cascade system.