Pages: Wiring Multi-Blocks and Formats
Once you have created a multi-block, you will need to add, or wire, it to the page(s) for which you created it. But first, let's define the concepts of "Regions" and "Formats".
Cascade provides a list of places in which you can connect, or "wire", multi-blocks to pages. In the example below, you can see the regions for LEFTNAV, NAV_FOOTER, REGION-01, REGION-02, and REGION-03. You will only be concerned with adding content in the "numbered" regions, such as REGION-01, REGION-02, etc. If you want to wire any content block to something other than a numbered region, ask ITWeb for help.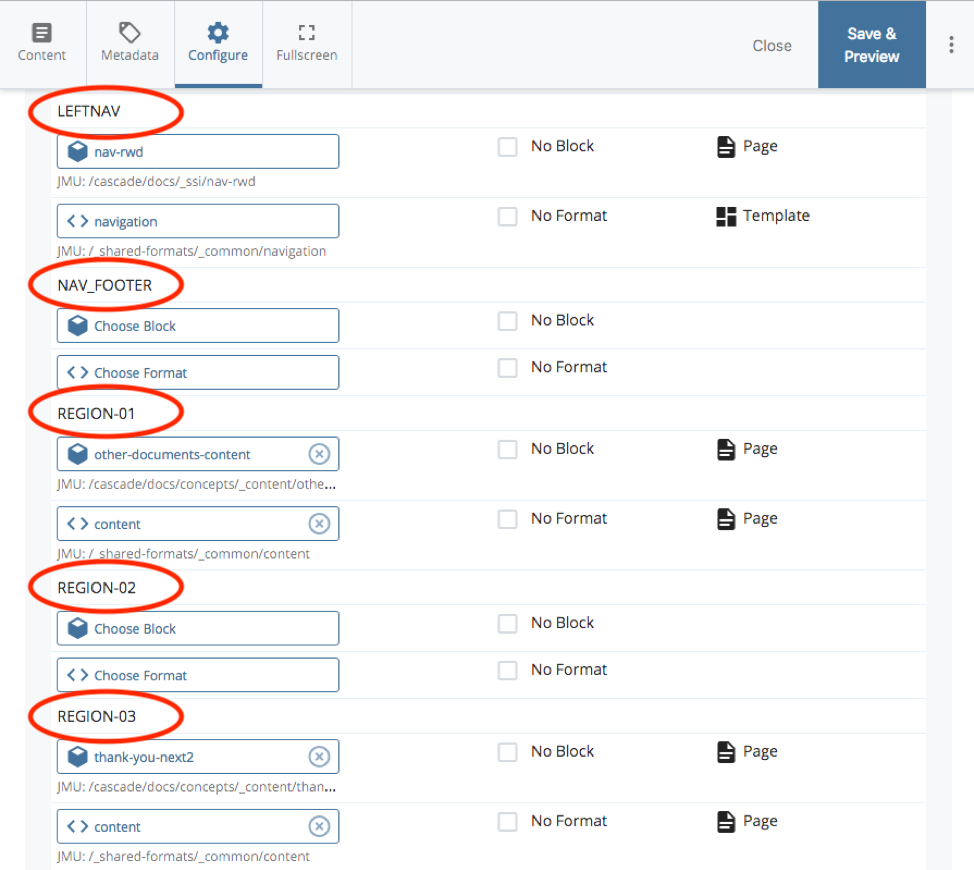 "Formats" tell Cascade how to display "Block" content on a page. The block contains all the data to be displayed, and the format "formats" that data. The content in a block cannot be seen on a page unless a "Format" displays its content. "Formats" are already created by ITWeb and many commonly-used ones are located in the /_shared-formats folder.
Step 1: Add content block to a region
Navigate to the page where you want to add the Multi-block
In the top toolbar of the page, select: Edit > Configure tab
Scroll down to find the numbered REGION you want to add content to (note: the regions are in alphabetical order)
Select the REGION to display content in

Pro-Tip: 

Select a region other than REGION-01 to add your multi-block into. You may want to wire another multi-block to the page in the future and have it appear before the current multi-block on the page; therefore, by wiring the current multi-block to, for example, REGION-02 or REGION-03.  Therefore, you will avoid having to rearrange blocks between regions in the future.

Click "Choose Block" and then select the multi-block from your "_content" folder
Click the "Choose" button
Step 2: Add a format to your region
Select "Choose Format"
Navigate to the /_shared formats folder by selecting Browse > JMU > _shared-formats > _common > _content
Click the "Choose" button
In the verticle ellipsis, select "Submit"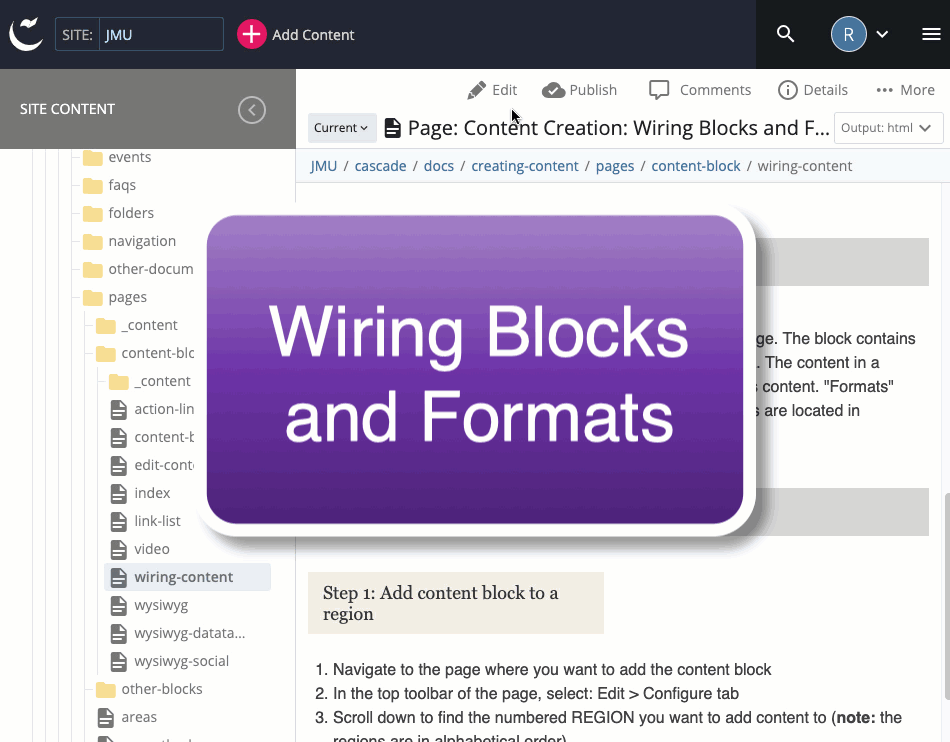 This animation shows both steps described above
Removing blocks and formats from Regions
---
You may decide you want to remove a multi-block from a Document. To do so, follow these instructions:
In the Configure tab:
Locate the Region that contains the block and format you want to remove

Check the box next to "No Block"

Check the box next to "No Format"

In the vertical ellipsis, select "Submit"
One type of multi-block content you can specify for a grid cell is an Action Link. In this page's tutorial, we will review what Action Links are and how to create them.
An Action Link is simply some text with a triangle next to it, with a colored background, and an optional image on the top. It's a more noticeable way to link to something, especially when an image is added to the Action Link. Action Links should be used when you want links to stand out.
With images:

Without images:

Within a multi-block:
Start with a new

grid cell

; if needed,

add a new grid cell

Set the grid cell width to 1/4, 1/3, or 1/2, depending on the layout of the page, and the length of the text in the link.  We do not recommend full-width action links.

Select the "Yes" button under "Action Link?" to reveal Action Link options

Type the text you want to display on the Action Link in the Action Link Text field

Select a background color

(Optional): Add an image
Add an internal/external link
Action Link images should be 1/3, 1/4, or 1/2 width. Find ready-to-use images here: _images/_action-links
Follow these dimensions for using other images:
Resolution must be 72dpi

Recommended file format is .jpg with quality of 8