Other Document Types in Cascade
Now that you have learned the concepts and creation methods of Cascade documents, you will now learn how to properly upload general documents, like Microsoft Word, to Cascade Documents. You will want to convert Word documents to PDFs for various reasons: 1) All browsers can read PDFs whereas not all browsers can read a Word document, and 2) people tend to trust opening PDFs more than Word documents. Follow the instructions below to learn how to convert your Word document to a PDF.
Click the following link to open Word to PDF converter in your browser: https://altoconvertwordtopdf.com/
Click the "Choose File" button and select the Word document from your computer



Step 2: Convert and download document
1. When the document has been uploaded, select the "Convert Now!" button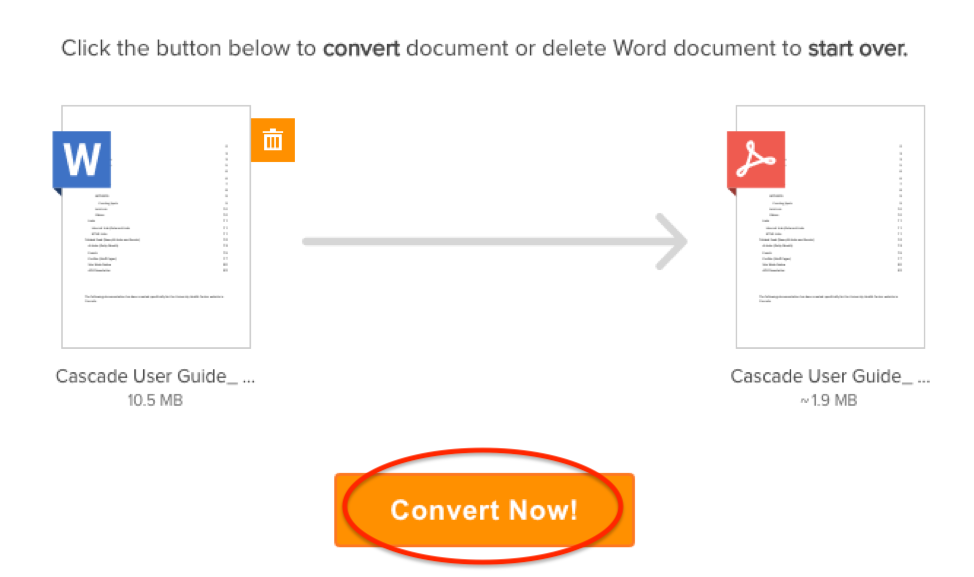 2. Once the file has been converted to a PDF, select the "Download PDF" button

1. Navigate to your computer's Downloads folder and select the PDF

2. If the file name does not follow the general Cascade naming guidelines, right-click to rename the file. In the example above, the file needs to be renamed"cascade-user-guide-health-center.pdf" in order to eliminate the underscore, spaces, and capital letters. 
Note: If you have a large number of PDF files in Cascade, remember to organize them in such a way that you can tell when they can be archived (old internship postings, etc.). Also, if a file is a generic file that is updated each year, you can just give it a generic name, and then upload a new file each time it's updated instead of adding another version of the same file.
Examples:
Bad: registration form 20190102.pdf (has spaces and a date in the filename)
Bad: registration-form-NEW.pdf (eventually this will not be "new")
Bad: registration-form-NEW2.pdf (this is what eventually happens when a version of the file already has the word "new" in it)
Good: registration-form.pdf
Step 4: Upload PDF to Cascade
Navigate to your websites's _files folder
In the top-left corner of Cascade, select: Add Content > _ALL > File
Name the file and place it in your website's _files folder
Drag and drop your PDF into the dropbox
Click "Submit" in the ellipsis