Content Creation: Creating Events
IMPORTANT: If you do not have any Events on your website and you are creating one for the first time, please contact itweb@jmu.edu. Events are being moved from Cascade into an Events Management System. If you already have Events in Cascade, continue using Cascade for now.
Step 1 - Add the Event
Use the

"Add Content" Method

to select an Event template

Name the Event file according to guidelines

Place in Events folder according to date
Naming Events
Name Event files using the event date and event name. For example, if there's a Madison Brass Concert scheduled for February 28, 2019 name the event: 02-28-madison-brass-concert.
If you have multiple events scheduled for the same day, include the time in the file name. For example, if there are two Madison Brass Concerts scheduled for February 28, 2019 with one starting at 11:30 a.m. and one starting at 1 p.m., the files should be named 02-28-1130am-madison-brass-concert and 02-28-1pm-madison-brass-concert.
Placement folder for Events
Place all Events in the "events" folder. The Events folder will have year folders. From the previous example, an event scheduled for February 28, 2019 should be placed in your website's "2019" year folder.  For example, the brass-concert event above should be in "/events/music/2019/" if your website is "music" and the year of the event is 2019.  If your website's event folder does not have a folder for the current year, please ask itweb@jmu.edu to provide you with one.
Step 2 - Edit Events "Content" Tab:
Under Event:
Type in a title in the Title field (should be under 30 characters)

Enter a Start Date/Time for the Event

Enter an End Date/Time for the Event

Tag Event with department tag

In the tags section, you should see that your department tag is already added. If you do not see your department tag, contact itweb@jmu.edu. If you wish to add a second tag that is not your own, see instructions for another department's tag.

Use the Content field to add WYSIWYG content

Add a Facebook image (1200 wide by 630 high) to display if the Event is shared in a Facebook post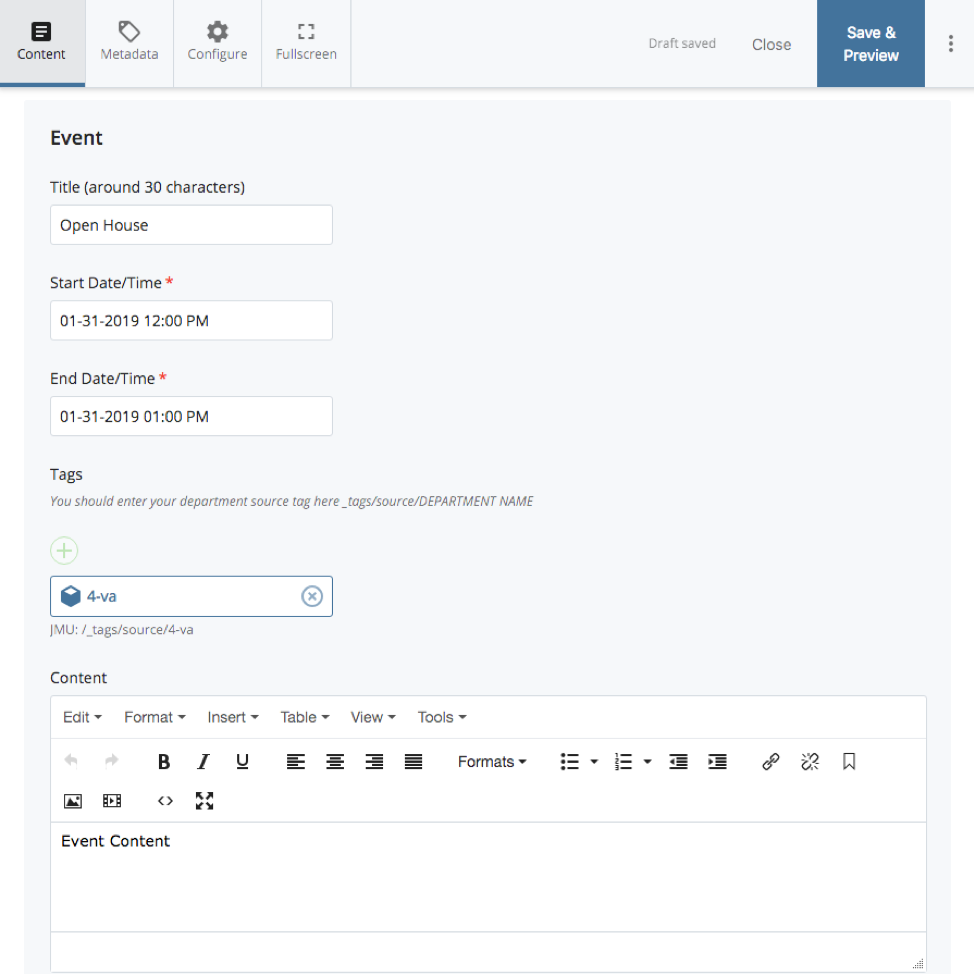 Step 3 - Edit Events "Metadata" Tab:
Give a 1-2 sentence summary of the Event in the Summary field

Add a teaser to the Event; this is the text that will show with the Event when it appears in a Feed

Add Keywords to describe the content of the Event. 

You do not need to include JMU or James Madison University in keywords, it is already applied

Provide a Description of the Event

Type your full name in the Author field (not your e-ID)

Specify the Start Date, which should be the publish date/time for the Event to be listed in feeds on your website

If desired, specify an End date and Expiration folder. 

Choosing an End date and Expiration folder will unpublish the Event from the Live web server on the End date, and move it into the specified Expiration folder. This folder should be your own "z-archive" folder within your website folders that is unindexable and unpublishable. Using this option will remove the Event from your live website so your users do not accidentally view outdated Events.

Specify a Review Date. 

Content should be reviewed before publication. Adding a review date will generate an email reminding you about the event

Select the vertical ellipsis and select Check Content & Submit