Content Creation: Creation Methods
There are two ways to create documents in Cascade: 
Option 1: "Add Content" Method
NOTE: If you do not see your site in the "Add Content" menu, or if you do see your site yet don't see the particular document type you want to create, then you can ask ITWeb to set that up for you.  If you do not want to have this set up for you, you may use Option 2 below.
In the JMU site, click the Add Content button at the top of the Cascade dashboard

Scroll to find the folder corresponding to your website

Click on the type of document you want to add:

The options available to you will vary. You may see 

Page

(or Secondary Page),

Article

(or News),

Event

,

FAQ

, or

Profile

, but you may see others as well if you have been set up with custom types of content. If you do not have an option you want, you can contact itweb@jmu.edu to request it.

Name the file, and choose a placement folder

The structure of websites will vary, but new pages should NOT be placed in "_content" folders since those folders are reserved for

content block

s only.

Click Submit 
When to use this method: This is the easiest way to create new content, since it is only a few clicks away, but it does require that ITWeb has already configured these options.

Option 2: "Copy Existing Document" Method
Documents that already exist on a website can be copied to produce new documents for editing.
For pages

Copy "_blank-page" from the "_content" subfolder in your main website folder. F

or example, if your main website folder is "cob," you will have a second folder inside "cob" called "_content." The "_content" folder will contain content blocks and a "_blank-page" file that can be copied.

For profiles
Right-click on document

Click Copy

Name the file according to file type

Choose the placement folder for the file

If using the "_blank-page" file:

choose a location outside of the "_content" folder

If using an existing profile:

make sure it remains in the particular folder that the source profile was in (this should be the case)

Click Copy button
When to use this method (for pages): If you would like to set up several different page templates, for example if your site has multiple different footers, you could set up multiple "_blank-page" files and would not have to require itweb to set up additional content items. If you do not have a "_blank-page" file, contact itweb@jmu.edu and they will set it up for you.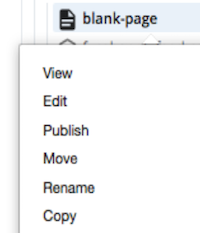 PRO-TIP: To make a new template, copy the "_blank-page" file. Make sure to keep it in a "_content" folder so it can't be published. If you add a content block to the "_blank-page," you will need to place both files in a folder to maintain the relationship between the block and page, and copy the folder when using it as a template. For example, you may wire a Slideshow EZ content block or a feed to the copy of the "_blank-page" and rename it "_blank-page-with-slideshow" so you can use that template in the future.