In all likelihood, James Madison University is the only college or university in the country whose athletic teams draw their nickname from the name of the school's president.
Men first enrolled at Madison College as regular session students following World War II as a result of a request to the college from the Veterans Administration. Thirty-nine men enrolled in 1946 and 101 during the 1947-48 session.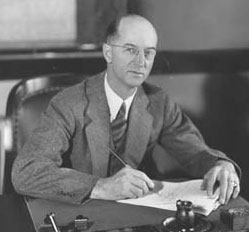 The first men's basketball team was formed in 1947 and the players chose the nickname "The Dukes," in honor of Madison President Samuel P. Duke. The players told President Duke they would name their team for him if he'd provide them with towels and equipment.
About the same time, the women's teams began calling themselves the "Duchesses." Women's teams in earlier years had gone by a variety of names. The name "Duchesses" was dropped in 1982 when all JMU teams became the "Dukes."
When the men's intercollegiate athletic program began its rapid expansion in the 1970s, the need arose for a mascot that could be used to generate spirit. There really wasn't any way to turn a "Duke" into a mascot that would engender enthusiasm among students, alumni and other fans.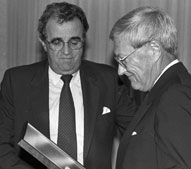 The idea for the Duke Dog came from Dr. Ray V. Sonner, then director of public affairs. (Sonner later became vice president for university relations and senior vice president. Sonner Hall on campus is named in his honor.)
Sonner's rationale was that the stereotypical pet for British royalty, such as a duke, would be an English bulldog. Duke Dog was born.
Duke Dog made his first appearance as a cartoon and as a real bulldog in the 1972-73 school year. An early version of a Duke Dog student mascot appeared in 1972-73 but the mascot outfit similar to the one used today did not come into use until 1982-83. The Duke Dog statue was added to the campus in 2005.
–Fred Hilton