JMU Centennial Celebration - Duke Dog - The Bulldog
November 13, 2019
The same year that the Duke Dog cartoon first appeared, 1972-73, was also the year that Duke Dog – the real bulldog – made his first appearance. Like the cartoon, the appearance of the real bulldog as a mascot was orchestrated by Dr. Ray V. Sonner, director of public affairs. The bulldog was a purebred English Bulldog who belonged to Dr. Henry A. Myers, a Madison professor of political science and history. The bulldog's real name was "Bunker." (Myers bought the dog when it was a puppy in 1968 from a man who had an apartment across from the Bunker Hill Monument in Boston.)
Duke I make his first appearance at the Jan. 16, 1973, men's basketball game against George Mason University. He wore a crown and a regal purple-and-gold cape. When Duke I made his debut, the crowd in Godwin Hall exploded. "I had never heard the crowd yell so loud before," Sonner recalled.
Duke I poses regally in his purple and gold cape and crown.


Unfortunately, Duke's charm couldn't win the game for the Dukes, who lost 79-78 to George Mason in double overtime. Duke I attended most Madison basketball games and served as the Duke's mascot until 1977 when he died at the age of 10.
The reign of Duke II was a short one. He became the official JMU mascot in April of 1978 but died that August, apparently of a sunstroke or heart attack. The 2-year-old bulldog was kept during his brief reign by head trainer Robbie Lester and his wife, cheerleading coach Marsha Lester. When the Lesters left JMU, Duke II moved in with the family of JMU assistant men's basketball coach, Ernie Nestor.
Duke III made his debut on Jan. 12, 1980, in front of a rousing and vocal packed-house crowd in Godwin Hall as the Dukes played arch-rival Virginia Commonwealth University. (JMU won 53-51 in double overtime.)
At a 1973 basketball game, Duke I joins cheerleaders and the strange-looking creature that was an early version of the Duke Dog mascot.
Seven months old when he became Duke III, the bulldog's registered name with the American Kennel Club was "Tiny Hunk of a Tank." Sigma Phi Epsilon fraternity bought the dog for the university as a service project.
Duke III was kept by Drs. William R. and Eileen Nelson. Dr. William R. Nelson was head of the department of political science and Dr. Eileen Nelson was a professor of psychology. In the summer of 1981, the 2-year-old Duke III died of leukemia, an uncommon disease for bulldogs.
The Duke Dog with the longest reign, Duke IV, assumed the title on Feb. 13, 1982, during what was arguably the best season ever for the JMU men's basketball team.
Duke III doesn't even want to think about it at this 1980 Homecoming football game, which the Dukes lost 28-23 to East Tennessee State.
The 5-month-old Duke IV made his first appearance in the JMU-Richmond game, with JMU winning 66-59. The Dukes went on to the NCAA tournament that year, defeating Ohio State University in the first round and barely losing to eventual national champion North Carolina in the second round.
Duke IV was bought by the fraternities and sororities on campus and presented to the university. Duke IV's registered name was "James Madison's Duke." Like Duke III, he was kept by the Nelsons during his reign.
Duke IV gets a good-luck rub from cheerleaders at the 1982 Homecoming game. It worked. The Duke beat William and Mary 24-18.
Duke IV attended most home football games and some basketball games each year over the next dozen years, remaining JMU's four legged mascot until his death in 1994.
At the Dukes opening home football game in 2007, a new bulldog mascot wearing a purple JMU jersey bounded on to the field to the delight of fans.
Designated as Duke V, the bulldog is named Seigle and owned by Harrisonburg residents, Solomon Zarchini and Mark Neofotis. Duke V was seven months old as his debut.
Duke V made his debut in the fall of 2007.
University Communications and Marketing
Ice House
MSC 3608
127 W. Bruce Street
Room 412
Harrisonburg, Virginia 22807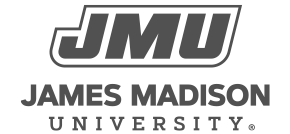 800 South Main Street
Harrisonburg, VA 22807
Contact Us