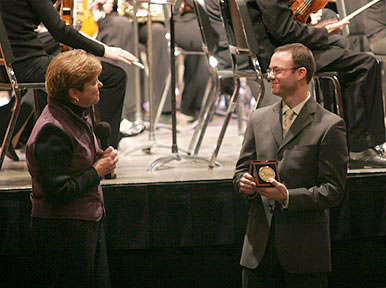 Dr. Marilou Johson, Dean of the College of Visual and Performing Arts presents composer, Brian Balmages with a JMU Centennial medallion.
Brian Balmages (b. 1975) is an active composer, conductor, producer and performer. His fresh compositional ideas have been heralded by many performers and directors, resulting in a high demand of his works for winds, brass and orchestra. He received his bachelor's degree in music from James Madison University and his master's degree from the University of Miami in Florida. Mr. Balmages' compositions have been performed worldwide at conferences including the College Band Directors National and Regional Conferences, the Midwest Clinic, the International Tuba/Euphonium Conference, the International Trombone Festival, and the International Trumpet Guild Conference. His active schedule of commissions and premieres has incorporated groups ranging from elementary schools to professional ensembles, including the Baltimore Symphony Orchestra, the Miami Symphony Orchestra, the University of Miami Wind Ensemble, members of the United States Marine Band, and the Dominion Brass Ensemble. Among the professional artists that have commissioned him are James Jenkins, Principal Tuba of the Jacksonville Symphony; Lynn Klock, Saxophone Performing Artist for Selmer; Arthur Campbell, Clarinet Performing Artist for Leblanc; and Jerry Peel, Professor of Horn at the University of Miami. He has also enjoyed world premieres in prestigious venues such as Carnegie Hall along with numerous performances abroad.

As a conductor, Mr. Balmages enjoys engagements with numerous honor bands, orchestras, university groups and professional ensembles throughout the country. Notable guest conducting appearances have included the Midwest Clinic, College Band Directors Regional Conference, Mid-Atlantic Wind Conductors Conference, the Atlantic Classical Orchestra Brass Ensemble, and an appearance at Meyerhoff Symphony Hall in Baltimore. He has also served as an adjunct professor of instrumental conducting and Acting Symphonic Band Director at Towson University in Maryland.

Currently, he is Director of Instrumental Publications for The FJH Music Company Inc. in Fort Lauderdale, Florida, where he oversees all aspects of the instrumental program related to works for concert band, jazz ensemble and orchestra. He resides in Baltimore with his wife, Lisa, and son, Jacob.