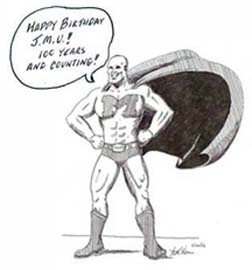 On a bright October Saturday afternoon in 1979, a caped crusader wearing purple and gold dashed from the press box, ran down the football stadium steps, hopped the fence onto the field and planted a big kiss on the cheek of the James Madison University Homecoming Queen.
Madisonman had come to life.
The crowd went wild as Madisonman pushed aside JMU President Ronald E. Carrier to reach Homecoming Queen Kathy Johannes ('80).
Never one to be upstaged, Carrier grabbed Madisonman and kissed him on the cheek. The crowd went even wilder.
"Two can play at this game," Carrier told Madisonman. "What do you think about that?"
Before assuming human characteristics, Madisonman had existed as a cartoon on the pages of The Breeze.
In the fall of 1978, The Breeze issued a call for cartoon submissions and Scott Worner ('81) responded with "Madisonman and JiMmy U" (as in, JiMmy U). Madison College had changed its name to James Madison University the year before and Worner's thinking was that "Madisonman would represent the 'old' Madison College, while 'JiMmy U' would represent the new James Madison University."
He based his characters on Batman and Robin, drawing some additional inspiration from the "Hokieman" comic in Virginia Tech's student newspaper.
During the next few years, the cartoon drew a dedicated following as Worner poked polite and sometimes not-so-polite fun at everything from the Dukettes cheerleaders to President Ronald E. Carrier. (Worner helped popularize the affectionate nickname students had for Carrier, "Uncle Ron.")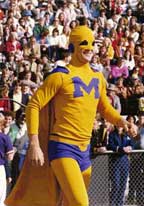 In 1979, Worner's roommate, Steve Richmond ('81, currently president of Ferguson Enterprises), dared him to put together a costume and go out as Madisonman during Halloween. Worner's mother gamely agreed to sew a superhero's purple-and-gold uniform, completed with an 'M' on the chest and a flowing cape.
The hard part of the uniform was the eyes. The cartoon used black triangles for Madisonman's eyes. Worner said his mother finally settled on "a black, see-through mesh that was very uncomfortable on my eyes."
When the costume was finished the week before Homecoming, Worner got what he calls "a crazy idea." Since he was on the track team and worked as a student athletic trainer, he was able to talk his way into the press box to change into his costume just before half-time.
He then made his dash onto the field and into JMU folklore.
After kissing the Homecoming Queen, Worner tried to leave the stadium but every time he approached an exit, fans tried to grab his mask or high-five him. So he ended up sitting with the cheerleaders until the football team returned to the field.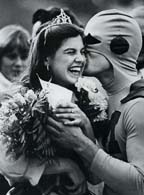 JMU's superhero again kissed the Homecoming Queen in 1980. That year's queen, Anna Gerard ('81), was caught on camera with Madisonman and the photo ran both in The Breeze and the Bluestone.
The caped hero remained a part of the JMU campus until 1982 when Worner left JMU after receiving his teaching certificate. Madisonman was a fan favorite at many JMU football and basketball games, often accompanied by Duke Dog. In the early 80s, JMU's only Duke Dog was a real bulldog. The student-in-a-costume Duke Dog didn't come along until November, 1982.
Madisonman even made a television commercial, "Giving to the United Way," which ran on Harrisonburg's WHSV-TV.
But even superheroes have to move on. After earning his Master of Education degree (1985) from JMU, Worner went on to earn his doctorate from Virginia Tech. He was a middle school principal in Spotsylvania County and an assistant superintendent in Charlotte County before being named to his present position as Educational Facilities Planner in Spotsylvania County.
About 20 years after Madisonman's debut in kissing Homecoming Queen Kathy Johannes, Worner ran into Johannes again. She was then Kathy Hinkle and was an officer in the PTA at Chancellor Middle School where Worner was her children's principal.
And the famous Madisonman costume? In 1982, Madisonman hung up his cape for good and the costume was donated to JM's, a popular student watering hole that sat across Main Street from the campus where Doc's Tea Room once stood and Buffalo Wild Wings is today.
The costume was placed on the wall with other JMU memorabilia until a JM's waiter "borrowed" it for a Halloween costume party. It hasn't been seen since.
A 21st Century version of Madisonman made sporadic appearances at a few JMU home games in 2006 and 2007, including a close greeting for Ms. Madison at the 2007 Homecoming. The latest version of Madisonman has not publicly revealed his identity.
-- August Smith and Fred Hilton