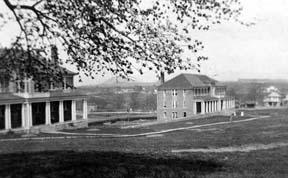 Two of the Normal School's earliest building, Jackson Hall (1909) and Ashby Hall (1911)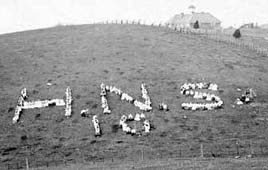 The Normal School Class of 1910 shows its school spirit
When it was founded in 1908, James Madison University began life with the unwieldy name of "The State Normal and Industrial School for Women at Harrisonburg."

So what's a Normal School?

It doesn't mean normal in the sense of average; it means normal in the sense of setting an excellent model – or "norm" – for other schools.

According to the 1988 edition of the Morris Dictionary of Word and Phrase Origins:
Normal Schools derive their name from the French phrase ecole normale.  These teacher-training institutions, the first of which was established in France by the Brothers of the Christian Schools in 1685, were intended to set a pattern, establish a "norm" after which all other schools would be modeled.  The first normal school in America was established in Vermont in 1823.  The name fell out of favor toward the end of the 1920s, when the influence of Columbia University's Teachers College became paramount in the field of public education.  Most such institutions changed their names to "teachers colleges" during the 1930s.  Now that the "progressive education" teachings of the Columbia group have been discredited, the Progressive Education Association itself has disbanded and most colleges have dropped "teachers" from their names.  Thus we find that the normal school of grandfather's day became a "state teachers college" during father's youth, but today's sprouts are attending "state colleges."
Virginia, led by the Normal School at Harrisonburg, was ahead of most of the nation in dropping the "normal school" name in favor of "teachers college."
Harrisonburg Normal School President Samuel Page Duke began arguing in the early 1920s that the state's normal schools should be changed to teachers college.  The presidents of the other Virginia Normal Schools (in Fredericksburg, Radford and Farmville) followed Duke's lead and recommended to the 1924 session of the Virginia General Assembly that the state authorize the name changes. 

According to Dr. Raymond Dingledine's Madison College: The First Fifty Years, 1908-1958:  "A bill prepared by ex-senator George N. Conrad of Harrisonburg, a member of the Normal School Board and its legal counsel, designating the four normal schools as state teachers colleges was passed by both houses of the legislature and signed into law on February 13, 1924.  The Normal School for Women at Harrisonburg officially became the State Teachers College at Harrisonburg."
President Duke continued his forward-thinking and, in 1938, successfully argued to have the teachers college re-named Madison College, in honor of President James Madison, because its offering went well beyond teacher training.

And, of course, Madison College transformed in James Madison University, which officially received the current name on July 1, 1977.
-- Fred Hilton