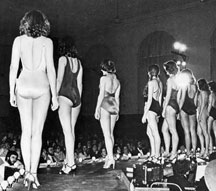 In 1980, James Madison University scheduled the first Miss JMU Pageant, with plans to make the competition an annual event. The "annual event" part never happened.
The pageant was part of the Miss America competition. The winner of the Miss JMU Pageant would go on to the Miss Virginia pageant later in the year in Roanoke and the Miss Virginia winner would compete in Atlantic City , N.J. , for the Miss America title.
JMU scholarships were established for the pageant winner and first two runners-up: a $1,500 scholarship for the winner with $1,000 for the first runner-up and $500 for the second runner-up.
The pageant, held on Jan. 13, was professionally planned. It was directed by a JMU theater faculty member who had been a coach and judge for other state pageants. A nine-piece band provided music.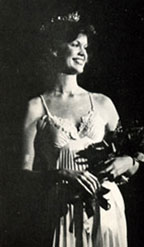 All 15 contestants in the pageant took part in a production number and the Madisonians, JMU's touring musical group, performed.
One of the five judges was Elinda Gail Vandeventer, a JMU graduate who was Miss Virginia 1974.
A crowd of about 700 attend the pageant in Wilson Hall Auditorium. Contestants were judged in swimsuit, evening gown and talent competition.
The pageant winner was Susan Eileen Durrin, a 21-year-old JMU senior from Vienna . She was crowned Miss JMU by President Ronald E. Carrier.
Durrin competed for the Miss Virginia pageant that summer along with three others who had JMU connections: Janell Maureen Schoedler, a junior who had been second runner-up in the Miss JMU Pageant and later won the Miss Chesapeake Pageant; Margaret Theresa Harris, a 1980 JMU graduate who was Miss Rockbridge County; and Rebecca Grace Weaver, an incoming JMU freshman who was Miss South Hill. None of the JMU group won the Miss Virginia title.
Plans to make the pageant an annual event were scuttled by faculty reaction to the first pageant.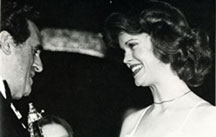 Just before the pageant, 57 JMU faculty members signed a letter maintaining a "Miss America " pageant at JMU "undermines values important in an academic community." The letter was printed in The Breeze two days after the pageant.
The protest was picked up by the Associated Press and carried statewide on its news wire.
The faculty letter said that "University support of this beauty contest is inappropriate" and urged "members of our community to question the activity and, if inclined, to boycott future events of this kind."
The administration took the hint. The first Miss JMU Pageant was also the last.
– Fred Hilton