For many years, James Madison University was an all-women's college, so it is fitting that a statue of a female leader and role model has been a treasured part of the institution's campus for nine decades.
This woman is Joan of Arc, who led the French to victory over the English at Orleans in 1429 and in effect secured the coronation of King Charles VII. "The Maid of France," as she is also known, was canonized as a saint on May 16, 1920 by Pope Benedict XV.
A statue of her kneeling with clasped hands and her head tilted up to hear the voices of saints who told her to defend France has been in the old Madison Memorial Library lobby (the first floor of today's Carrier Library), since its restoration in 1996.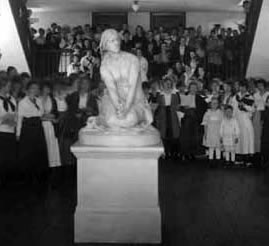 A crowd greets the arrival of Joan of Arc in Harrison Hall.
This plaster icon of France 's patron saint was first dedicated to the State Normal School for Women at Harrisonburg in 1917 by the school's first president, Julian A. Burruss. It is one of four exact replicas of a marble statue in the Louvre.
These replicas were given to the four former women's teachers colleges in Virginia. The other three went to what are now known as the University of Mary Washington, Longwood University and Radford University. The original 'Jeanne d'Arc' statue was sculpted by prize-winning French sculptor Henri Michel-Antoine Chapu in 1870.
It is rumored that these four copies were gifts from the French government after World War I, in appreciation of medical supplies and other war relief efforts provided by Americans.
The lineage of this statue of Joan of Arc has been a mystery over the years. In 1992, a similar replica in Ball Hall at Mary Washington was confirmed as a cast from the workshop of Pietro Poalo Caproni by Caproni's great-great grandson, Jeff Stoffa. Also, the replica at Longwood University is inscribed as follows:
Caproni Casts
P P Caproni & Bro
-Makers-
Boston U S A
Around the turn of the century, Caproni was considered the premier caster of the world. He and his craftsmen replicated statues by covering them with hundreds of paper-thin tin sheets pressed along the contours of each original, casting these contour-moulds in plaster, and finishing each one off with a coat of paint. These finely crafted replica statues were for the most part sold to public schools, libraries, colleges, museums, symphony halls and patrons of the arts.
However, Julia Merkel, assistant curator of the JMU Foundation collection, has concluded that JMU's Joan is probably not a cast from the workshop of Caproni because it does not bear a castmaker's mark or seal.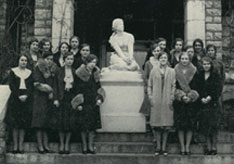 The French Club poses with Joan of Arc in 1931.
Instead, she hypothesizes it may have been an illegal copy of the Chapu statue. The French government had confiscated illegal copies of many statues by the first quarter of the 20th century. "Would the French government destroy illegal copies of their own patron saint? Probably not," said Merkel. "So gifts to American institutions are a likely solution."
After Joan's arrival at the Normal School at Harrisonburg in 1917, the statue was placed in Harrison Hall, moved to the old Madison Memorial Library lobby in 1939, then resituated in Wilson Hall. It has also been located in Alumnae Hall at various times.
In 1978, after Joan had been moved to storage, an "overzealous purchasing agent" almost sold the statue at a public auction. Luckily, according to Fred Hilton, director of the Centennial Office, "someone recognized Joan and saved her from the auction block." From the late 1970's to the mid-1990's the statue was prominently placed in the lobby of Duke Hall, home of the School of Art and Art History as well as JMU's Sawhill Gallery and Latimer-Shaeffer Theatre.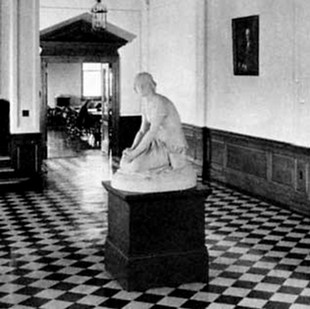 Joan of Arc in the lobby of Madison Memorial Library in the late 1930's.
By this time, the century-old statue was showing extensive signs of aging—the paint was chipped away in many spots and defaced by student graffiti in others. Thanks in part to contributions by the family of Elizabeth Katherine Miller Aigner (Class of '19), Joan of Arc was carefully restored by alumnus Howard A. "Tom" Thomas (Class of '87) in 1996.

Thomas stripped and sanded away two layers of dull, beige paint and found an interior shell of plaster reinforced with horse hair, which he left in place. Before repainting the statue a lustrous pearl color close to its original finish, Thomas placed a "time capsule" inside the statue, which included not only information on the materials and techniques he had used in his restoration, but also a copy of all historical information and correspondence relating to the statue which JMU officials could compile.
In 1996, the restored Joan of Arc statue was moved into a permanent location in Carrier Library. This final move was Joan's homecoming, since she had returned to the same lobby she'd occupied in the 1940's.
You can learn more about Joan of Arc at the forthcoming exhibit "Maiden, Militant, and Martyr: Joan of Arc in French and American Culture, 1429-1929," featured from September 30, 2006-December 31, 2006 at the Corcoran Gallery of Art in Washington, D.C.
JMU began as a women's teachers college and faculty, staff, and alumni can take pride in the Joan of Arc statue that, as President Burruss said in his 1917 dedication, "represents the high ideals of womanhood."
–August Smith