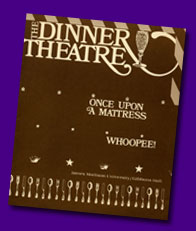 Culinary fare and dramatic entertainment – for 17 years that was the JMU Dinner Theatre's calling card.
In 1977, three JMU faculty members, Thomas King, Thomas Arthur and Phillip Grayson, went to the university administration to request permission to start a new theater program in addition to the "black box" theater they had started earlier in Theatre II (then named the Wampler Building).
Although they had no initial budget to work with, the three professors organized a summer dinner theater program in Gibbons Hall, in conjunction with Food Service. They were helped by students who had the attitude, in the words of Allen Lyndrup of the Theatre Department, to "build a theater in a space that's not a theater." Grayson then created a theater set in today's Market One dining room. During that inaugural summer, 1,600 people attended a total of 22 performances.
This began what would quickly become one of Harrisonburg's most popular cultural events – two dinner theater plays running five days a week from May to August.
Initially, patrons paid $11-12 for an "eat-all-you-want" main course (choice of appetizer, salad, vegetable, and entrée, including country ham with raisin sauce) followed by a play featuring students and professional performers. All-you-can-eat steamed shrimp was later added to the menu and became an extremely-popular option for theater-goers.
The first year's theatrical offerings, The Thurber Carnival and The Fantasticks, were directed by Arthur. Grayson served as both technical director and lighting designer.
Over the years, three faculty members, Arthur, Allen Lyndrup and Roger Hall, took turns directing dinner theater productions. Director Arthur took to the stage as well, acting in 1993. Lyndrup was at times business manager and JMU Theatre faculty member Pam Johnson came aboard as costumer designer in 1978.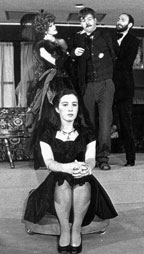 King alternately served as business manager, set designer or technical director. Dance faculty Kate Trammell and Sheryl O'Hara choreographed a few productions each and John Little, Beryl W. Hoak and Linda Farquarson of the music department each served as music director. King, Little and Trammell also acted in some of the productions.
Phoef Sutton ('81) was one of the talented student, then alumna actors in the Dinner Theatre's early performances. Today, Sutton is well-known for winning two Emmy awards writing and producing the famous TV series Cheers, as well as several other hit shows.
Debbie Laumand ('82) performed in the Dinner Theatre her last two years at JMU, 1981 and 1982, and then again in 1990 after she'd started her career as a professional actress.
Anne Lyndrup, wife of theater faculty Allen Lyndrup, also started acting in the Dinner Theatre's first season and performed until the mid-1980s.
"International" became the buzz-word in 1978 when a JMU Dinner Theatre troupe performed for USO audiences in Germany and Italy. Alumnus John Hudson directed The Fantasticks and a new variety show, featuring student actor Cedric Guthrie.
By its second season, the JMU Dinner Theatre was fully professional. Everyone who worked on productions, from faculty and staff to students and non-JMU participants, was paid for their work, whether it was carpentry or artistic direction.
Arthur remembers: "It was a big work load for faculty, but it provided extra money. Theater students also were able to make extra money waiting tables. [Our company] paid better than other summer theater programs."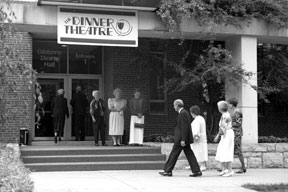 The popularity of the Dinner Theatre skyrocketed when theater representatives convinced many local clubs and organizations to block the entire theater, or much of it, for club special events.
The Dinner Theatre was competitive in attracting both campus and outside talents. Open auditions were held for each summer's cast and faculty went to the Southeast Theatre Conference's annual auditions to recruit talent.
"[The Dinner Theatre] was very important to the growth of theater and dance here because it gave us greater visibility," said Arthur. The Dinner Theatre was at the forefront of Harrisonburg 's entertainment offerings, drawing town residents; Lions, Rotary, and Kiwanis club members; and theater-goers from Charlottesville, Washington and surrounding areas.
There were three other reasons why the Dinner Theatre was beneficial. It provided an activity for parents visiting the campus in the summer. It allowed for Food Service to keep permanent employees throughout the summer. And, the Dinner Theatre enabled the JMU Theatre to keep students involved in summer theater on campus, instead of sending them to off-campus theaters.
Throughout the 1980s, the Dinner Theatre doubled in size, from about 15 participants to more than 30 for each summer's set of two performances. In the peak seasons, there were more than 50 performances per season. "At its height, we did seven performances a week and ran six days a week," Hall said.
But in the late 1980s and early 1990s ticket demand dropped, partly because of renovations to Gibbons Hall. Dinner Theatre performances were displaced for several years to the Phillips Center (now Phillips Hall) ballroom, a theater in the round which Arthur described as "a cavernous space with high ceilings, dreadful acoustics, and unsatisfactory sightlines."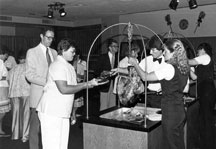 It certainly didn't help that buffet dinners were replaced by served meals and a reduced menu. To top it all off, ticket prices rose from $11-12 to $21.
In 1991, personnel from University Program Board in Student Activities, the Dinner Theatre and Food Service revamped their presentation, providing larger food portions, a before-the-show lounge area with a wine bar and a "dessert theater."
From Sunday to Tuesday the dessert theater offered a buffet of cakes, pies, and parfait instead of dinner for $14, compared to $21 for dinner theater. These efforts were successfully rewarded with a reversal of the attendance slump and renewed interest in the Dinner Theatre.
However, as Arthur explained, the presence of the Dinner Theatre prevented the university from using the Gibbons Hall facilities for profitable conferences and sports camps that wanted to locate at JMU in the summers. "(The Dinner Theatre) kept basketball camps from happening and also dinner theaters lost their luster over the years," Arthur said.
The Dinner Theatre ended its 17-year run at JMU with performances of three plays instead of the usual two in 1993.
--August Smith