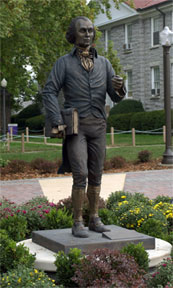 The first responsibility of a college or university president is to think forward, yet never lose sight of the past. When second President Samuel Duke promoted U.S. President James Madison as an appropriate personage to be represented in the college's name, he was doing just that and answering a question for the ages: What is education and how does it affect the world?
In 1999, the second year of Linwood Rose's administration, the Madison Center formed to celebrate, study and share the legacy of the nation's fourth president. It was, in a sense, a university coming full circle. The center, the alliance with President James Madison and the university looking backing over a century of growth represented an amalgamation of learning and liberty and societal change, ideals which James Madison's life brilliantly demonstrated.
The Madison Center was another step in Rose's commitment to more closely associate James Madison University with its namesake, President James Madison. The JMU logo now features a representation of James Madison and the university has developed several cooperative programs with Montpelier, the historic shrine that was Madison's home.
The Madison Center, located on campus, is a repository for the work and life of the fourth president, as well as his era, the federalist era that was - not unlike the Madison Century -a time in which unprecedented change, educational craftsmanship and considered forethought shaped a fledgling nation, the way a small Normal became a major university.
Through the Donald Robertson Project, named for Madison's tutor, the Madison Center shares the Madison legacy with elementary- and secondary-school students, educators and community members through workshops, seminars, internships and professional opportunities.
-- Martha B. Graham