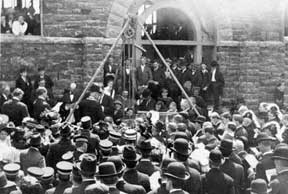 The cornerstone for Science hall (Maury Hall) was placed in April, 1909. Ground had been broken on November 25, 1908. Science Hall and Dormitory No. 1 (Jackson Hall) were built simultaneously and were the first buildings constructed on the campus of the State Normal and Industrial School for Women.
1908
On November 25, ground was broken for the first two buildings at the State Normal and Industrial School for Women at Harrisonburg – Dormitory No. 1 (now Jackson Hall) and Science Hall (Maury Hall). The two buildings were constructed at a total cost of just over $51,000. They were built by the Harrisonburg firm of W.M. Bucher & Sons, which was later purchased by what-is-now Nielsen Builders Inc. Stone for the buildings was quarried from three sites on campus – one near the location of Burruss Hall and the other between today's Ashby and Spotswood Halls.
1909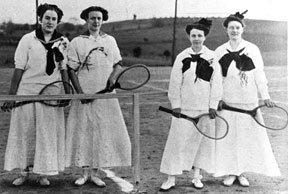 The first sports teams at the State Normal and Industrial School for Women were two tennis club teams, the Racket Club and Pinquet Club formed in the fall of 1909. This is a 1911 photograph of team members.
Early in November, the Normal School's first sports teams were organized. Two tennis teams, the Racket Club and the Pinquet Club, formed. The two teams planned to play each other in June, 1910, as part of the Commencement festivities but rain formed the match's cancellation. It was finally played in November, 1910.
On November 2, a little more than a month after the school's first session had opened, the first lyceum program was held and became an annual part of the school's academic calendar for many years. At the first program, a reading from Shakespeare's Julius Caesar was given by the Dean of Boston's Emerson College of Oratory, Henry Southwick.
A grading system was adopted at the Normal School on November 30 with final examinations counting for one-third of the student's grade and class work for the remaining two-thirds. Grades were established as follows: A (Very Good), B (Good), C (Passable), D (Conditioned), and E (Failure). The dreaded "F" took the place of E for failure in 1920 and Grade Point Averages were introduced in 1928.
A faculty meeting on November 30 addressed the school's first incident of student misconduct. Most of the meeting was used to address the "serious offense" that had been committed – a student was found guilty of stealing $2-3 from her roommate. The faculty decided to help the student overcome her "weakness" rather than expel her.
1914
On November 2, Professor John W. Wayland took his civics class on a field trip to a local polling center even though none of the students (all women) were allowed to vote. One student filled out a ballot anyway and attempted to put it in the ballot box before she was stopped by an election official. This caused her to be "way more determined than ever" to gain the right to vote – which ultimately was granted in 1920.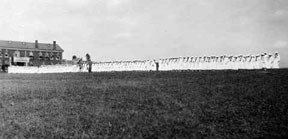 Julian Burruss, the Normal School's first president, led students on drills during World War I.
1918
A special Sunday service on November 10 was dedicated to give thanks for the school's "happy deliverance from any death of student or teacher" during the Spanish Flu outbreak. More than half of the Normal School students and faculty were afflicted with the flu, which claimed 675,000 American lives and between 50 and 100 million worldwide.

Cheers broke out across campus on November 11 as World War I came to an end. Students participated in a town parade that evening.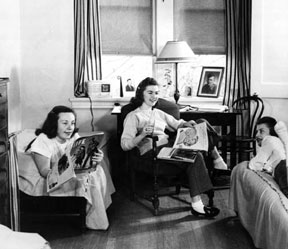 The first radio was introduced to campus in 1922. By the 19302 and 1940s, radios became a fixture in most dormitory rooms.
1922
In November, 1922, the first radio was introduced on campus. It was installed for listening in the Sheldon Hall auditorium. Students listened mostly to jazz, which was their favorite
1942
A World War II Work Plan was adopted at Madison College. Students were asked to volunteer four hours per week, two in military drill and calisthenics and two in special projects. Projects included airplane spotting and work in local nursery schools