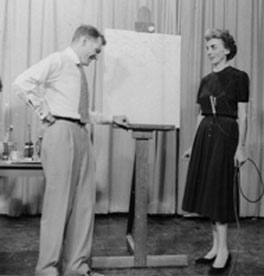 Theodore and Madison/JMU Professor David Diller on a "Viewpoint" show
The effort of an art professor, Dr. Crystal Theodore, brought Madison College into the television era.
Theodore, long-time head of the Madison Art Department, organized the college's first TV programming in the 1950s when both commercial and public television were in their infancy outside the nation's major metropolitan areas.
She pioneered television programming at colleges both in Virginia and Tennessee : Madison and East Tennessee State College (now East Tennessee State University ). Theodore headed the art department at both schools.
At East Tennessee State, two of the students in one of Theodore's art appreciation classes were a young Ron Carrier and Edith Johnson – the future president and first lady of Madison College/James Madison University.
Television stations in the 1950s were beginning to realize the tremendous potential their medium had for education, both for the general public and on college campuses.
Theodore first arranged for a regular show on WJHL-TV in Johnston City, Tennessee. WJHL-TV, the first television station in East Tennessee, still serves the Tri-Cities area of Johnson City and Kingsport, Tennessee, and Bristol, Virginia - Tennessee.
WJHL-TV began broadcasting the program on the arts in 1954. Theodore wrote the script and served as the program's host. The program included information on the world's finest art as well as interviews and demonstrations by area artists.
In 1957, Theodore received a grant for further development of the program from the Educational Television and Radio Center of Ann Arbor, Michigan. That same year, however, she decided to leave ETSC and become head of the art department at Madison College.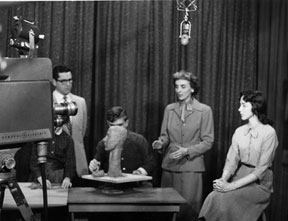 Theodore (second from right) at a WJHL-TV telecast in Tennessee
At her request, with the support of ETSC president Burgin E. Dossett and Madison President G. Tyler Miller, the grant was transferred from East Tennessee to Madison College.
Madison had entered the TV age.
In Virginia, Theodore developed a program similar to the one she had created in Tennessee. The show was carried on Harrisonburg 's WSVA-TV (now WHSV-TV), a small market pioneer like WHJL-TV in Tennessee.
The WSVA-TV show, "Viewpoint," also focused on the arts and included interviews and demonstrations by Shenandoah Valley artists, many of them from the Madison faculty.
Theodore's duties with the art department grew too large for her to continue coordinating "Viewpoint." She retired from JMU in 1983.
"Viewpoint" remained on the air for many years.
Hosted by Channel 3's general manager, Arthur Hamilton, "Viewpoint" evolved into a general interest discussion show but continued to feature Madison/JMU administrators and faculty members.