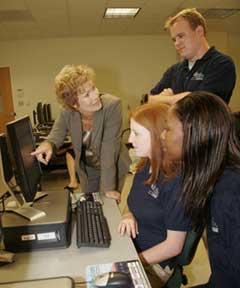 Today we call it the College of Graduate and Outreach Programs, CGOP for short. From October 2001 to March 2006, we called it the College of Graduate and Professional Programs (CGAPP).
By any name it's the JMU graduate program, which has awarded more than 10,000 graduate degrees since its inception in 1954.
Ever since CGAPP celebrated its 40th anniversary in 1994 (read about this in the June,1994, issue of Montpelier magazine), many have asked "How have JMU's graduate programs grown over the decades?"
Today, you could answer by saying they've grown from a single graduate program in education, offering two degrees, a Master of Arts in Education and a Master of Science in Education, into 40 graduate certificate and degree programs.
You could also measure the growth of the graduate school by looking at the number of degrees awarded each year. In 1956, ten graduate degrees were awarded. In the 2005-2006 academic year, more than 500 graduate degrees were awarded.
Or, you might get a better idea of the growth of the graduate school by looking at its latest developments. As the name CGOP reflects, the College of Graduate and Outreach Programs has expanded beyond the traditional role of a graduate school to also focus on online and other off-campus courses, professional certificate programs and credit courses for non-degree seeking students.
Other recent developments include the inauguration of key programs such as the first doctoral program in 1994 (a Combined-Integrated Doctor of Psychology in Clinical and School Psychology), the first Doctor of Philosophy program in 2002 (Assessment and Measurement in Psychology) and a Doctor of Audiology program in 2004. After numerous advancements, JMU's Department of Psychology now offers a total of 11 graduate programs.
Any way you look at it, the CGOP has come a long way from the Madison College Graduate School. Certainly the change in status from a college to a university and the consequent new accreditations have been a significant part of CGOP's growth. Here are some of the landmarks in CGOP history:
The JMU Graduate School was established in 1954 when the Virginia State Board of Education authorized Madison College to confer both the Master of Arts and Master of Science degrees in Education. Everett Erskine Wilfong and Vivian Berry Fauver were the first recipients of this degree in 1956. But let's take it back even further.
The beginning of JMU's graduate school precedes the 1954 authorization – that accreditation was the culmination of five years of campaigning by the college's third president, Dr. G. Tyler Miller.
In his inaugural address on Dec. 10, 1949, President Miller outlined his plan to bring graduate programs for secondary school teachers to Madison College on a cooperative basis with the University of Virginia and Virginia Polytechnic Institute (now Virginia Tech).
Through Miller's experience as a former Virginia state superintendent of education, he perceived the limited graduate education opportunities for teachers in Virginia as a leading factor in the shortage of public school teachers. Many teachers from Madison College had to go out of state for graduate work, which was costly and also entailed difficulties in getting release time from teaching assignments. Over the following years, Miller worked on establishing a graduate program at Madison College and in 1953 he appointed and led a committee that studied the possibilities of a cooperative agreement for graduate education.
Even though Miller's plan for a cooperative graduate degree program didn't go through, he did succeed in securing authorization for a graduate program at Madison College in 1954. Graduate classes began in the 1955-56 academic session. The first Graduate Council was formed and it included the Dean of the College of Education and four division heads. Two education master degrees were awarded at the June 1956 graduation and eight more in August.
Additional graduate programs were developed over the years, with remarkable growth periods in the 1970s, 1980s, and 2000s: a Master of Science in Biology in 1960; a Master of Education in Exceptional Education in 1973; a Master of Fine Arts in Studio Art in 1979; a Master of Music program (with the option of four concentrations), a Master of Public Administration, and an Educational Specialist in Psychology program, all in 1980; a Master of Science in Computer Science in 1984; a Doctor of Psychology degree in 1994; a Combined-Integrated Psychology Ph.D. in 2002; and both a Doctor in Audiology degree (an Au.D. in Clinical Audiology) and an M.Ed. in Mathematics in 2004.
Other degree programs are offered through the departments of Accounting (M.S.); English (M.A.); Communications Sciences and Disorders (M.S. and Ph.D.); Health Sciences (a Master of Public Administration and four M.S. programs); History (M.A.), Integrated Science and Technology (Master of Science in Integrated Science and Technology; Kinesiology (an M.S. with six different concentration options and an M.A. in Teaching); Business (Master of Business Administration); Nursing (Master of Science in Nursing); Occupational Therapy (Master of Occupation Therapy); Technical and Scientific Communication (M.A. and M.S.), and Psychology (a whopping eight masters programs, two doctor of psychology programs, and a Ph.D. program).
In October, 2001, the JMU Graduate School and the Office of Continuing Education merged and formed the College of Graduate and Professional Programs (CGAPP).
Continuing Education became Outreach Programs in 2006 and CGAPP officially transformed into the College of Graduate and Outreach Programs (CGOP) in April 2006. Associate Dean of Outreach Programs Dr. James M. Schaeffer Sr. has made it a goal to expand JMU's outreach efforts to 22 off-campus programs.
In 2004, the CGAPP celebrated 50 years of graduate programs at JMU. The Regional Graduation Education Fair that October hosted 30 graduate school representatives and 250 students. Dr. Debra Stewart, president of the Council of Graduate Schools (a national organization), spoke at the CGAPP luncheon, Celebrating 50 Years of Graduate Education, on Oct. 26.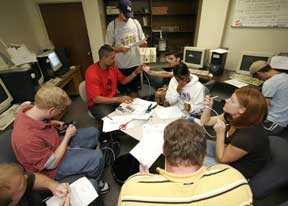 Now into its sixth decade of graduate education, CGOP currently oversees academic and administrative responsibility for 40 graduate certificate and degree programs, serving about 1,300 graduate students. Dr. Reid Linn was appointed the Dean of the College of Graduate and Outreach Programs on July 1, 2006 when former dean Dr. William N. Walker was named Associate Vice Provost in Academic Affairs.
The Dean of CGOP works closely with the Graduate Council, a policy-forming and advisory body which coordinates faculty participation in university policies and procedures.
JMU's graduate programs are accredited by the Commission on Colleges of the Southern Association of Colleges and Schools, the Virginia State Board of Education, the Virginia Board of Nursing, the Society for Public Health Education, the National Council for Accreditation of Teacher Education, the National Association of Schools of Music, the National Association of School Psychologists and 19 other national organizations.
Let's not forget one measure of success that everyone respects – awards and special recognitions. Each year dozens of graduate students are awarded scholarships and leadership awards.
For example, Jessica Schaffer was named the 2005 Graduate Student of the Year by the Virginia Academy of School Psychologists. A graduate student in the Kinesiology department, Melissa Funaro, won the 2006 Virginia Association of Health, Physical Education, Recreation, and Dance Scholarship.
Of course for many graduate students there's nothing as rewarding as being hired in their field after completing their degree. Remember those first two graduate students? Everett E. Wilfong went on to be a principal at Keezletown Elementary School and Vivian Berry Fauver went on to teach seventh grade at Harrisonburg public schools.
--August Smith
Sources:
Brock, Pam. "The Graduate School." Montpelier (June 1994), 11-21.