1975 Football Dukes - Undefeated Season
In 1975, the James Madison University football team achieved a goal that no other Dukes squad has reached despite the program making six NCAA playoff appearances and winning a national championship in 2004.
The team finished with a 9-0-1 record and is the only Dukes squad to go undefeated. That year's team also set a JMU record by allowing only 75 points, and the Dukes were remarkably efficient in their efforts in close games.
JMU won nine straight games after a season-opening scoreless tie at Glenville State and won the Virginia College Athletic Association title.
It was a season of thrilling finishes with no game decided by more than 11 points, and it was done by a program in only its fourth season. JMU had started football in 1972 and didn't win a game or score a point ( https://www.jmu.edu/centennialcelebration/first_football.shtml ) that first year of competition.
The team only played its first full varsity schedule in 1974. The next season the Dukes didn't lose, and there were many highlights:
•  Freshman John Tuell's end zone interception with just more than a minute left preserved the tie at Glenville State.
•  During the Bridgewater game's final eight minutes, JMU's defense twice stopped the Eagles on first-and-goal situations from the one-yard line in a 10-7 win.
•  Linebacker Dewey Windham blocked a fourth-quarter field goal attempt try to preserve a 3-0 win over Hampden-Sydney.
•  Safety Brent Good intercepted a pass at the JMU five with 0:32 left in a 13-7 win over Shepherd.
•  Other Dukes wins were saved by JMU stopping a two-point conversion try during the final seconds of a 21-20 win at Frostburg
State and thwarting last-minute scoring threats in 12-7 and 7-0 wins over Randolph-Macon and Emory & Henry, respectively.
JMU ran its record to 8-0-1 with a 24-15 win over Salisbury State and closed the unbeaten campaign by winning 14-3 at Shippensburg. The Dukes trailed 3-0 at Shippensburg, but Dale Eaton's blocked punt gave them possession at the Raider three and Shane Hast's touchdown run with 11:58 put them in front to stay.
The season also was one that saw coach Challace McMillin, JMU's coach from the program's beginning until 1984, and several of his players honored. McMillin won coach of the year honors in the NCAA district and from the VCAA and the Richmond Touchdown Club.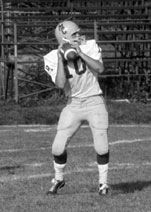 Les Branich
Quaterbacked Winless and Undefeated Teams
Defensive lineman Woody Bergeria and Windham were honorable mention All-Americas and tailback Ron Stith was state college division offensive player of the year. Stith provided much of the team's offense after fellow tailback Bernard Slayton was hurt early in the year. Both players eventually ran for more than 2,000 career yards and remain among the program's all-time rushing leaders.
Bergeria, Stith and Windham were first-team All-VCAA along with offensive guard Jeff Adams. Center Brian Grainer, offensive tackle Tim Phillips, Slayton, Eaton and Good were second-team All-VCAA, and quarterback Les Branich, defensive end Rich Jackson and linebacker Pat Cavanaugh were honorable mention All-VCAA.
Adams and Branich were fourth-year Dukes and the only remaining players JMU's inaugural, winless team in 1972.
JMU extended its winning streak to 12 games early during the 1976 season when it was tied for No. 1 in the nation in the first NCAA Division III football poll.
-- Gary Michael