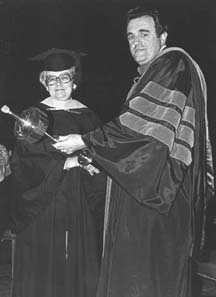 Emily L. Lee of Columbia, S.C., presents the James Madison University Mace to President Carrier on behalf of the Class of 1943. The presentation took place at the 1979 Founders Day program.
Once a fierce battle weapon, the mace began losing its warlike image eight centuries ago when it started to become a symbol of peaceful leadership. Kings began removing spikes from their maces and encrusting them with jewels and precious metals for ceremonial use.
Since then, the mace has been used in ceremonial processionals as an ensign of authority.
The James Madison University mace was first used at Founders Day in 1979. (Founders Day was re-formatted in 2000 as James Madison Day.) The mace was presented to the university by Emily L. Lee of Charleston, S.C. on behalf of the Alumni Association. In addition to being an active alumna as a member of the Class of 1943, Mrs. Lee served on the JMU Board of Visitors from 1980 to 1983.
Funds for the mace were donated by the Class of 1943. Commissioned by the Faculty Senate, the mace was created by Ronald J. Wyancko, JMU professor of art and art history.
The mace is carried by the faculty marshal of the JMU Faculty Senate during all formal faculty processions. The faculty marshal precedes the platform party in processionals and recessionals.
The mace is made of sterling silver, 14-karat gold, rosewood and ebony. It weighs four pounds and stands 37-1/2 inches high.
The upper node of the mace is textured to symbolize the blue limestone used on the original buildings on campus. The lower node represents the brick used on newer buildings.
The JMU crest is at the top of the mace. The butt cap of the mace is inlaid with the name of the university and the date of its founding.
There are five ebony designs around the main node of the mace:
President James Madison.
The State Seal of the Commonwealth of Virginia.
A book representing the search for knowledge.
The flame of eternal truth.
Wilson Hall representing the JMU campus.
When it is not being used in university ceremonies, the mace is kept on display in a glass case near the entrance to Carrier Library.