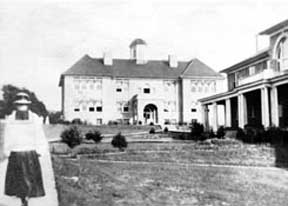 The first two buildings at the State Normal and Industrial School for Women when it openened in 1909 were (at left) Science Hall (now Maury Hall) and Dormitory #1 (now Jackson Hall).
A number of buildings and facilities at James Madison University have changed names over the years. Following are the original names and current names of some major campus facilities.
Science Hall - Maury Hall

Student Building - Harrison Hall

Dormitory #1 - Jackson Hall

Reed Hall - Keezell Hall

Dormitory #2 - Ashby Hall

Junior Hall - Cleveland Hall

Dormitory #3 - Spotswood Hall

Senior Hall - Converse Hall

Reed Health Center - Madison College Health Center - University Health Center

Madison Memorial Library - Carrier Library

Madison Stadium - JMU Stadium -Bridgeforth Stadium

Warren Campus Center - Warren Hall

Facilities Management Building - University Services Building

College Center - Festival Conference and Student Center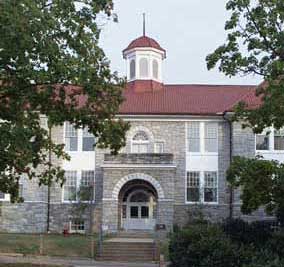 Keezell Hall was named Reed Hall when it was built in 1927.  Walter Reed was the Virginia-born doctor whose research led to the control of malaria and typhoid fever.  Reed had been a frequent visitor to Harrisonburg.  In 1959, the building was renamed for Virginia State Sen. George B. Keezell, who was instrumental in having the Normal School located in Harrisonburg.  The Madison infirmary was then designated as Reed Infirmary.  That name changed later to the Madison College Health Center.