The link between the State Normal and Industrial School for Women at Harrisonburg and James Madison University is personified by Althea Loose Johnston.
Mrs. Johnston was among those meeting with President Julian A. Burruss at the Normal School's first faculty meeting on September 22, 1909. She was also there nearly seven decades later, when Virginia Governor Mills E. Godwin signed the bill on March 22, 1977, changing the name of Madison College to James Madison University.
JMU has operated under five different names and Mrs. Johnston was associated with the institution under each of those names.
Althea Loose was hired by President Burruss shortly after her graduation from Carroll College in Wisconsin. (In 1929, she received a master of arts in physical education from Columbia University, one of a very few women in the field at that time.)
At the new normal school, she taught physical education, Latin and German. Miss Loose personally supervised construction of the first three tennis courts on campus and an outdoor basketball court.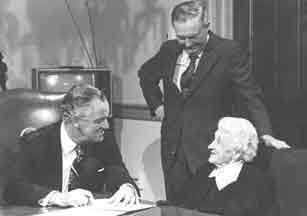 After teaching for two years, Miss Loose married one of Harrisonburg 's most eligible bachelors, James C. Johnston. Johnston was principal at Harrisonburg High and taught part-time at the Normal School in 1909-1910. He became a full-time faculty member at the Normal School the following year, teaching chemistry and physics and becoming one of the school's most popular professors.
Mrs. Johnston left the Normal School faculty in 1911 after her marriage to Professor Johnston but she returned in 1919 as head of the department of physical education. She remained as department head until 1947 and taught until her retirement in 1951.
As coach of the Harrisonburg Teachers College basketball team, Mrs. Johnston's teams were among the best in the country. Her teams had a 106-33-5 (.809) record in a span of 22 years. Six of her teams were undefeated and at one point her teams won 17 straight games over three years. Her undefeated 1929 team doubled its opponents' score in every game, ending the season with a lop-sided 90-6 victory over the State Teachers College at Fredericksburg (now the University of Mary Washington). In 1988, Mrs. Johnston was named posthumously to the JMU Athletics Hall of Fame. She was one of five individuals named to the Hall of Fame in its first year.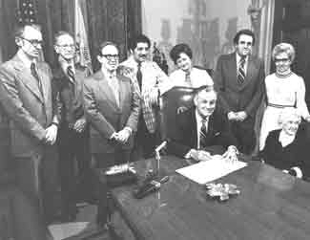 The Johnstons ' marriage ended in tragedy in 1927 when Professor Johnston died as the result of complications from a broken leg and chest injury sustained in a faculty-student baseball game.
In 1929, the newly-constructed Johnston Hall on campus was named in his honor. In 1980, the JMU Board of Visitors extended the designation of Johnston Hall to honor both James and Althea Johnston.
Mrs. Johnston joined Madison College President Ronald E. Carrier, Vice President Ray V. Sonner and members of the Board of Visitors for the 1977 ceremony at the State Capitol when Governor Godwin signed the bill creating JMU.
After her retirement in 1951, Mrs. Johnston moved to Richmond where she died in March of 1984, just shy of her 99th birthday. She was the last surviving member of the original Normal School faculty.
The Johnston 's legacy at James Madison University has been carried on by a number of their descendants.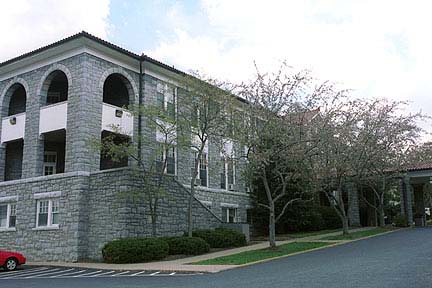 Their oldest daughter, Jacqueline Johnston Rice attended the Harrisonburg State Teachers College, played on the basketball team her mother coached, and was a member of the Class of 1932. Jacqueline Rice's son, John Thomas Rice, taught at Madison College and from 1965-1969 was the school's first Dean of Men.
A granddaughter of the Johnstons, Jean Montgomery Johnston, attended Madison College and graduated in 1978 with a degree in business/home economics.
The most recent representative of the Johnston family is Alison Montgomery Johnston, a member of the Class of 2006 and the great-granddaughter of James and Althea Johnston.
–Fred Hilton