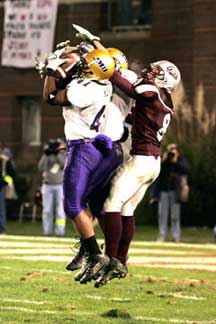 On a chilly December night in Tennessee, with chunks of the stadium turf flying to and fro, the James Madison University Dukes completed a cardiac-challenging run through the football playoffs and became 2004 national champions.
It was the first national championship for a Division I Virginia football team and for Dukes fans with long-term memories of a scoreless and winless first season of football in 1972, the victory couldn't have been sweeter.
Thousands of the JMU faithful had made their way to Chattanooga 's Finley Stadium to see the Dukes challenge the two-time Division I-AA champion University of Montana Grizzlies.
The national pundits didn't give JMU much of a chance and further had predicted that the new turf at Finley Stadium might tear loose and hamper the Dukes' powerful running game.
The forecasters were right about the turf – it ripped from the field time and again all night, leaving chunks of turf scattered all around the field. But the flying pieces of debris didn't make a whit of difference to JMU's quarterback Justin Rascati and the Dukes running backs as they shredded the Montana defense.
The eventual 31-21 victory came after a miserable start. Montana began the game like they were going to run the Dukes out of Chattanooga. But the Dukes woke up and came back to take the lead in the third quarter and hold tight for the national title. "We thought the kickoff was 8:30 instead of 8:00," Coach Mickey Matthews quipped after the game.
JMU's route through the playoffs had been an improbable one. The Dukes became the first team in NCAA history to win the championship after three straight playoff games on the road.
The first two games were both heart-stopping 14-13 victories – one at Lehigh University and one at Furman University.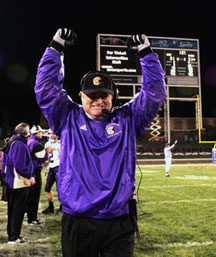 The semifinal victory came on a sloppy and muddy field at William and Mary. The game, nationally broadcast on ESPN2, was the first night game ever played at W&M's Cary Field.
Like the first two playoff games, there was never a moment for Dukes fans to breathe easy. JMU took an early 21-0 lead, then managed to fall behind before rallying for a 48-34 win – spoiling the party for a festive W&M crowd in Williamsburg.
The national title game in Chattanooga gave the Dukes a season's record of 13-2. JMU had lost early in the season to West Virginia, a powerful Division I-A opponent, and in a last-second loss at home to William and Mary in the regular season's final home game.
The final national poll a week after the championship game made official what everyone at JMU already knew – the Dukes were No. 1!
-- Fred Hilton