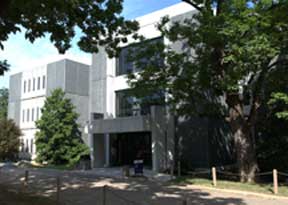 According to the story, both James Madison University and Virginia Tech were building new education buildings in the late 1970s.
The same architect was being used by both universities. Somehow, the architects' drawings for the two education buildings were switched.
The end result was that the School of Education building constructed at JMU – now named Roop Hall – was actually the one that was supposed to be built at Virginia Tech. And conversely, Tech ended up with JMU's building.
This story is so ingrained in JMU folklore that student tour guides at one time were passing the switched building tale on to the groups they were taking through campus.
The story, however, is flat out wrong. It never happened.
Dr. Ronald E. Carrier, JMU president when Roop Hall was built, says "it simply couldn't have happened. There are too many checks and safeguards on plans both at JMU and Richmond for it to have happened."
The folks in Blacksburg agree. The headquarters for the Virginia Tech School of Education is War Memorial Hall. It was built in 1922 – not in 1980. (The building was originally named War Memorial Gymnasium and was remodeled and renovated in 1975.)
In fact, there were no major buildings under construction at Virginia Tech when JMU's Roop Hall was built.