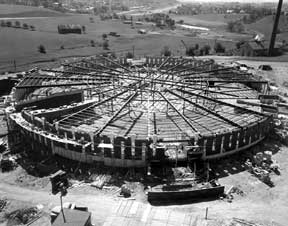 An entirely new look appeared on the Madison College campus in 1964, with the construction of Gibbons Hall. This structure was circular, and was built with red brick, which was a change from the signature bluestone look. It was also the first major building built on "back campus."
Former Nielsen Builders Inc. employee Junior Hensley was the superintendent who oversaw construction of Gibbons. He remembers, "I had to hire a math teacher to figure out the angles on that building. I didn't have the education to do it. So, I hired Swanson Williams, a teacher at Montevideo High School. By the end of the job, I understood the math."
Hensley remodeled Gibbons twice following the original construction. In 1972, air conditioning and refrigerated rooms were added. Again in 1990 Gibbons was remodeled to accommodate a new food service vendor. The exterior was also remodeled at that time.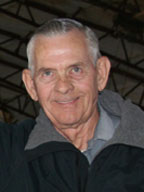 Former Nielsen Vice President Jim Gilkeson also worked on Gibbons Hall. "Junior was quite innovative," Gilkeson said. "He kept plans under his bed. If he thought about something in the middle of the night, he would check the plans. He always double-checked everything. He was a good person to work with."
In 1975, Hensley supervised the Miller Hall construction. By this time, the cost of quarrying bluestone had skyrocketed. In order to blend in with the existing bluestone buildings, Miller Hall was constructed from precast aggregate stone panels that complemented the bluestone. The stone, which was also used on Carrier Library, came from Cast-A-Stone Company, Raleigh, N.C.
Gilkeson recalls driving to Raleigh once a month to inspect the stone panels. "I would leave early in the morning and drive to Raleigh to check the stone and take pictures of it. Then I would drive to Richmond to show the pictures to the architect. It was about a 23-hour day for me." The molded stone panels were delivered via a tractor-trailer on an A-frame. A crane was used to unload and erect the panels.
Showker Hall, constructed in 1991, was one of Hensley's most challenging projects. The marble for the entrance lobby was manufactured in Italy. Hensley's task was to review the shop drawings and determine the exact cut of the marble.
Working with Standard Tile in Staunton, the marble was ordered and laid. Hensley recalls that at the end of the job, only two more tiles were needed to finish it, and "it took three months to get those two tiles."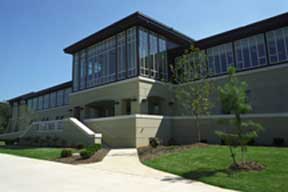 The final project he worked on at JMU was the University Recreation Center in 1996. Hensley says this was his favorite building at JMU. "It was completely different from anything else I had worked on at JMU. It had large colored concrete panels that were manufactured in Canada. They could only transport two at a time, so it took a while to haul them. It was my most challenging project," he says.
Hensley remembers his good relationship with former JMU President Dr. Ronald Carrier. "He used to come by often and he always had something good to say. Everything was on the positive side," he says. Hensley said that during one time, he spent ten years on the campus without leaving. "Dr. Carrier wanted to give me a diploma," he laughingly recalls.
Hensley, who started with Nielsen in November 1948, retired in 1997. His work at James Madison University was a significant part of Hensley's 48-year-career.
-- Patty May
From Inside Nielsen Magazine, Spring, 2007