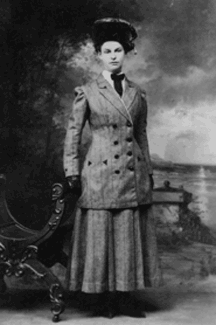 Nannie Caldona Sword has long been acknowledged as the Normal School's first student when she arrived on the new campus Sept. 27, 1909 , but was she the first?
Not according to Eleanor Beatrice Marable, a 16-year-old from Prince George County. After a teacher visited her home and left a magazine article about the new Normal and Industrial School , Marable submitted the first application to the new college in December 1908, making her the first applicant.
Encouraged to continue her education, Marable stayed for the first two years, returned in 1915, and again in 1943. She graduated cum laude in 1945 at the age of 52, the only member of her immediate family of 11 to pursue education beyond a one-room school. Calling herself "Bluestone Hill's First Daughter," Marable later lived in Elkton, taught school and remained involved with Madison well into the 1970s.
Still there is a third contender for the designation of first student. Although Miss Marable was the first to apply and Miss Sword was the first to set foot on campus, apparently it was Miss Myrtle Virginia Earman of Keezletown who was the first to officially register on Tuesday, Sept. 28, 1909. According to Carrier library staff member L. Sean, author of James Madison University 1908/1909 to 1958/1959, An Annotated Timeline, it is Miss Earman's name that appears on registration card No. 1.
So, you decide. Who was the first student?
--Martha B. Graham