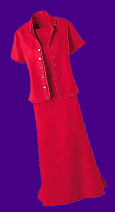 In the early 1970s, a frightening rumor spread through the campuses of Madison College and Mary Baldwin College.

The story was attributed to the premier astrologer/soothsayer of the day, Jeanne Dixon, and said that a female college administrator wearing a red dress would kill a coed at a college in Virginia 's Shenandoah Valley whose name began with an "M."
Even though their schools weren't in the Shenandoah Valley, the students at Marymount College in Arlington and Mary Washington College in Fredericksburg were caught up in the panic.

At that time, Jeanne Dixon predictions were to be feared. The noted clairvoyant was credited with predicting the assassinations of Mahatma Ghandhi, John and Robert Kennedy and Martin Luther King – as well as the launching of the Soviet satellite Sputnik and the airplane crash that killed United Nations Secretary-General Dag Hammarskjöld.
(For the record, Dixon also predicted that a comet would strike the earth in the mid-1980s, that Russia would be the first nation to put men on the moon, that World War III would begin in 1954 and that Fidel Castro would be overthrown in 1970.)
The Dixon rumor about murders and mayhem on campus apparently began in another part of the country but morphed and spread to Virginia.
In the late 1960s, a chilling rumor had gone around Michigan that at least 50 young women would be murdered on five college campuses. Dixon denied making any such predictions.
Dixon, who died in 1997, also denied forecasting scary events about female college administrators wearing red dresses and killing Virginia coeds.
Of course, that didn't totally allay the fears of students at the "M" schools.

Happily, no one was murdered or even bodily injured by an angry administrator wearing red.

But a number of female college administrators at Madison College, Mary Baldwin College and others were very careful about the color of dresses they chose for a while.