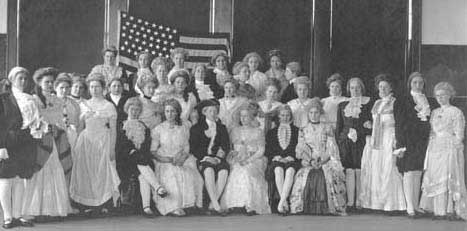 A 1910 photo of members of the Lanier Literary Society in colonial costume during the Normal School's first session. The Lanier Society contributed the purple of JMU's purple and gold colors.
The purple and gold colors of James Madison University date back to the institution's first year in operation, 1909-1910.

Two literary societies were formed that first year, the Lee Literary Society and the Lanier Literary Society. The Lee Society was named for Confederate General Robert E. Lee and the Lanier Society for Southern poet, Sidney Lanier.

Each of the literary societies chose its own colors: violet and white for the Lanier Society and gray and gold for the Lee Society.

The violet from the Lanier Society was combined with the gold of the Lee Society to create the school colors for the State Normal and Industrial School for Women at Harrisonburg.

In a few years, these colors had evolved into purple and gold since purple was an easier color to obtain for pennants and other decorations.

Several literary societies flourished during the early years of the institution. The societies sponsored readings, talks and debates, but also functioned as social organizations. They played a major role in the school's extracurricular activities.

Sororities were first approved at Madison College in 1939, signaling the end of literary societies. By 1942, the literary societies had disappeared altogether.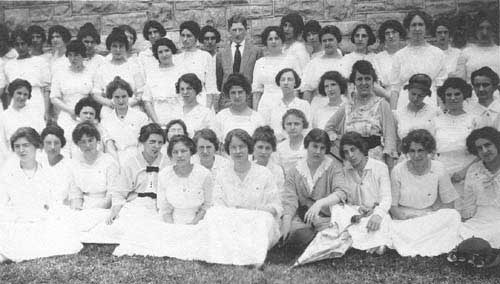 Students pose with President Burruss in 1914
Source: Madison College : The First Fifty Years, 1908-1958 by Dr.Raymond C. Dingledine Jr.